I'm going to show you 12 ways to make money as a teenager. I tried to make these unique and practical, so hopefully, some of these are methods you haven't heard of!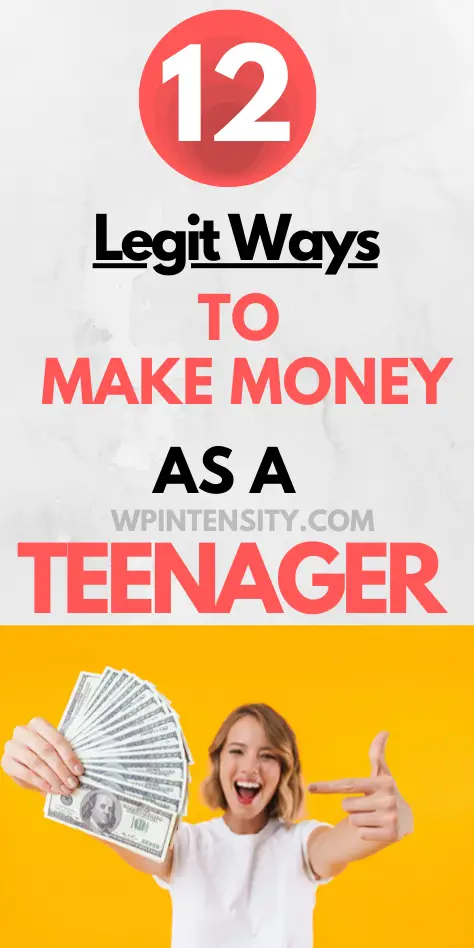 1. Start online tutor classes with TakeLessons
You don't need to show off some fancy-schmancy cert to start becoming an online tutor! Actually, you don't even need to be good at traditional subjects. If you're good at film acting, singing, or even the drums – TakeLessons is the place you need to sign up on.
TakeLessons is a platform that has been connecting teachers of all walks of life to interested students since 2006. If you're interested in signing up as a teacher, TakeLessons allows you to choose your desired time slot according to availability – which is super if you can only commit to a certain number of hours per day.
After passing a background check, you should be ready to start earning via TakeLessons.
Note that they pay you 60% of the price of each lesson, but with a little treat the longer you go on. For every 5 lessons completed, TakeLessons would give you the opportunity to earn an extra 10% more. This additional increase stretches to up to 90% total fee once you surpass 16 lessons!
2. Take Online Surveys
This isn't an opportunity that I'm terribly enthusiastic about, because most sites pay rewards, rather than cash.
But if being paid in rewards, including gift cards, is okay for you, then you can try sites like:
3. SwagBucks
Swagbucks is a legit site where people get paid for browsing the Internet and more. The points you earn are put into a "bank" and can be redeemed for gift cards to be used on Amazon or at local and online stores such as Walmart, Target and Old Navy. You can also get gift cards to PayPal.
Swagbucks will pay you points to complete small tasks such as:
Complete surveys
Play games
Search the Web
Watch videos
Shop online
Using your Swagbucks account in your spare time will allow you to make money to pay for the things you need or want. Best of all, it's free to join.
4. Babysit
Babysitting is a fairly common way for teenagers to earn money. A good place to start your babysitting activities is through family friends. If you do a good job, then they can spread the word around the community. You might be surprised how much you can earn as a reliable babysitter.
A typical rate is at least $10/hour plus an extra $3 for each additional child. Plus, most parents provide a meal to the babysitter.
5. Wash Cars
Busy adults often don't have time to wash their cars, but you can make some serious cash doing it for them. You'll need equipment such as a bucket, soap, rags to wash with and towels to dry with.
If you're cleaning the interior of the cars as well, you'll want to get some window cleaner and paper towels. A portable hand-held vacuum can be a great accessory as well.
Most clients will let you use their hose and water to wash the exterior of the car. Some may lend you their vacuum for vacuuming the interior, but be sure to check with them before you take the job.
6. Make Youtube Videos
Youtube can be a great platform to make money from. It m7.akes money in much the same way that a blog does.
The videos can be on any subject you can think of. It can be some sort of how-to video, or it can be about specific topics, like movie and music reviews. You can even create a portfolio of videos, each earning you a little bit of revenue every month.
7. Sell Your Products
Are you gifted at making crafts, jewelry, artwork, woodworking or other items? If so, you can open an Etsy shop and sell your products.
You can also sell your products on sites such as Craigslist or eBay, or sell them at local fairs and events. Be sure to charge prices that cover your materials as well as your time.
8. Become a freelance writer
If you're a stickler for the finer details of grammar and a master of words; look no further. A freelance writing business is an excellent way to take advantage of those skills and build a good looking portfolio at the same time!
9. Collect Cans and Bottles
Bringing cans and bottles to recycling centers or grocery stores is one of the ways for teens to make money that is not restricted by age.
Before you start collecting cans and bottles make sure that the recycling centers and grocery stores in your area offer cash incentives for disposing of your collection.
Yep – exactly what it sounds like! If you know of any small, local businesses in your area (cafes, coworking spaces, pet shops could be your targets) or even a budding entrepreneur; reach out to them to see if they are in need for a social media account manager.
11. Sell on Fiverr
One of the best paying jobs for teens is working with Fiverr. This option is an especially promising one for those talented with things like drawing, video making or writing.
There are many small business owners who go to Fiverr to find people who can perform creative tasks for them. You can set your own price and accept as many jobs as you want.
12. Start a photography or video editing business
Are you amazing at photography or video editing? Many people are constantly on the search for your services. You can offer to take pictures of an event or edit photos taken by the client.
Video editing would be very similar. This is a great opportunity to polish your skill set and earn an income.
Conclusion
There you have it. There are ways that teenagers can make money too. A little bit of online work and offline work to keep you busy.
It's a great idea to start earning money as a teenager. When you take home your first paycheck, you'll likely have a big smile on your face.