Inspiration Sells. Pinterest is Proof! The possibilities are endless with Pinterest.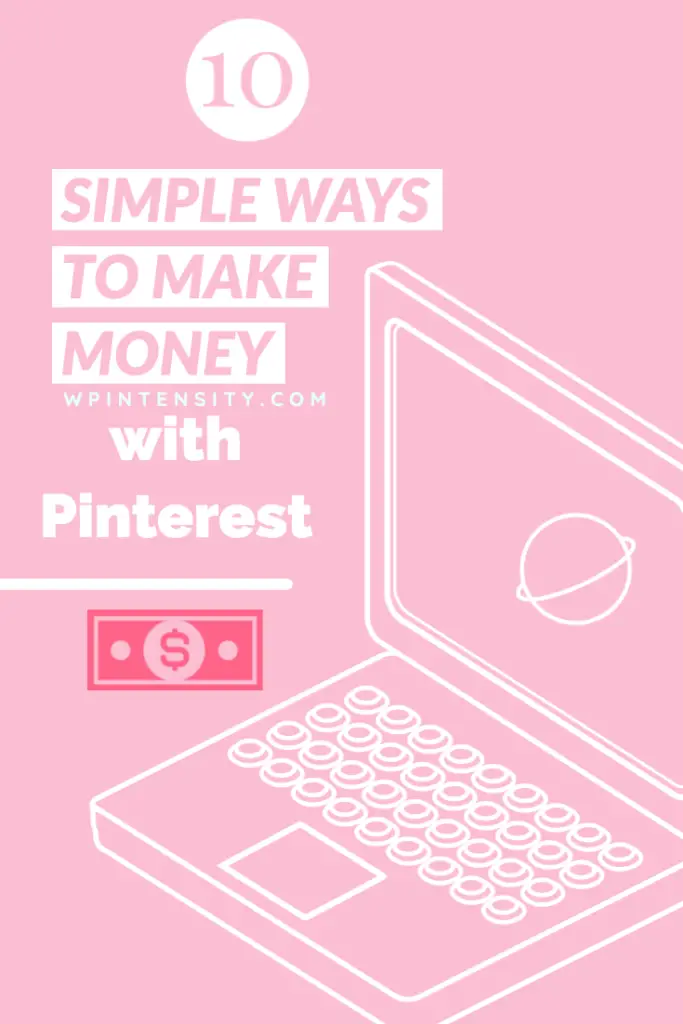 Are you wondering about ways to make money on Pinterest? ????
You were probably searching for how to earn money using Pinterest or how to make money on Pinterest, weren't you? Or maybe you were intrigued by the idea of making money on Pinterest.
In this post, I'm going to share with you – 10 Simple Ways to Make Money with Pinterest, in detail.
1. Become a Pinterest Virtual Assistant
As a Pinterest VA and Pinterest Manager, your job is to grow your client's Pinterest account and send traffic back to their website.
Pinterest virtual assistants help bloggers, social media influencers, and online business owners optimize their Pinterest accounts.
This includes things like:
Creating pins
Using Tailwind for scheduling
Automating the pinning process
Doing keyword research
Working with Pinterest Ads Manager to run Promoted Pins (Pinterest's version of Facebook ads)
Creating sales funnels, opt-ins, and more
One of the things Pinterest virtual assistants like so much about the work is that it's insanely flexible — you work when you want and where you want — and it stays interesting.
Most Pinterest virtual assistants have several clients, and they perform different kinds of Pinterest management tasks for each one.
How much can a Pinterest virtual assistant generally make?
It depends – factors include the amount of experience, level of expertise, services offered, the level of client they're looking to work with, etc.
Most Pinterest VAs start at least $15 per hour and can easily average $30 to $50 per hour (or more!) over time.
2. Sell Pinterest Graphics & Templates
While a business or blogger may be hesitant to outsource their entire Pinterest marketing effort, many are still in need of high-quality Pin designs.
There's actually a pretty significant market out there for visually appealing pins and template bundles. I've even seen people selling a monthly subscription service for new Canva pin templates.
3. Sell and promote a course
Online digital course creation is on the rise (so don't feel out of the loop if you haven't heard about it yet).
Basically, online courses allow anyone from anywhere to teach on anything they want…to anyone in the world! And Pinterest can help you promote and make sales!
No clue how to start an online course? I started with Teachable. It's super easy to follow the program and you can start for FREE!
4. Affiliate marketing on Pinterest
Many companies want affiliates who will promote their products for a small commission on the sales that result. Find companies that sell products you can promote, and sign up as an affiliate. Then promote the products on your boards, using your affiliate links.
Tip: use an URL-shortening service like Bitly to manage your links. You'll be able to track your pins and boards for the number of clicks.
Regarding spamming. Periodically Pinterest takes action against affiliate marketing spammers. If you get caught up in this, link your pins to your own website, where you can use affiliate links.
5. Sell Etsy products
Just like you can redirect pins to an e-commerce store the same holds true if you already have an Etsy store set up!
Using Pinterest to help promote an Etsy side hustle (or full-time gig) is a genius idea. Just get good photos of your items, create SEO friendly boards to pin them to and it will instantly help people start finding your beautiful creations!
6. Sell/Promote Digital Products
If you know how to make a Word document, then you know how to make your own digital products. Personally, I love selling mine on the blog. However, I have gotten several sales from Pinterest as well!
Ideas for digital products:
Photo presets
Organizational planners
Ebooks
Cook Books
To sell these all you have to do is take a few photos, make a few pins and make sure to link to your product!
7. Become a Pinterest Influencer
Pinterest Influencers have been making bank.
You too can become an influential personality on Pinterest and use it to earn money.
An influencer on Pinterest is someone with tons of followers and activities. Brands are likely to pay him/her for promoting their products.
"Promoting" can be anything from re-pinning a company's pins to inviting a third-party company to join a group board.
Pinterest is totally OK with this and has been working on solutions to make the collaboration between Pinterest members and companies as hassle-free as possible.
Expect to earn anywhere from $50 per promotion to thousands of dollars per campaign.
8. Become a Pinterest Consultant
As a Pinterest consultant, you're more than just the average VA. You're the expert in the field.
Someone who has plenty of experience and tricks up her/his sleeves to make a client's Pinterest game competitive.
In short, you have to be the authority in turning Pinterest into your client's gold mine.
9. Drive Traffic to Your Blog
Bloggers are in a great position to make money on Pinterest because it's an awesome way to promote your content. You can drive traffic to digital products you're selling, posts with affiliate links, courses, etc.
Here's what that looks like in practice:
For every new post you publish, create a pin
Make boards that are related to your blog's content and pin to them regularly
Pin other people's pins
Create a lead magnet (freebie) and pin it to gain email addresses
When you're creating pins to drive traffic to your site, they've got to be eye-catching. Pinterest, like Instagram, is a very visual place. People will scroll right past anything that doesn't grab their attention.
The good news is that it's easier than ever to create pins that will stand out. Canva is our favorite resource — it's free to use and has tons of customizable layouts. They have designs specifically for Pinterest, Instagram, etc.
10. Do a joint promotion with a brand
This is when a pinner works directly with a brand to create pins that promote the company's products. It can be product placement things, like "10 ways to repurpose Coca-Cola cans" or "5 epic Airbnb vacations."
I don't know if either of those brands do joint promotions with pinners… this is just an example.
To make money on Pinterest through a joint promotion, you'll need a successful account and be able to create really awesome pins, which would include:
The concept of the pin
Photography
Brand placement
Design of pin