Need some extra cash? In this article, we're sharing the best money making apps to help cushion your wallet.
Sometimes you need extra cash for bills. We've all been there, especially if you live in an expensive city.
Maybe you are trying to save up for something special.
If you are wondering how to make money today or what apps pay you real money, you've come to the right place.
Here, you will find a complete list of money-making apps that either I have personally tried and tested or people that I know have used it to earn real money.
I've included not only the highest paying apps but also mobile apps that pay you instantly on the same day.
1. Survey Junkie
Survey Junkie is a legitimate way to earn extra cash while you are waiting for the bus, on your lunch break, or even when vegging on the couch.
I like to earn money with Survey Junkie as I wake up in the morning. Survey Junkie is 100% free and easy to sign up.
Once signed up, (which takes less than 1 minute), you can start taking surveys on the go, from anywhere on your phone!
With Survey Junkie, you can make the most money in the least amount of time.
You can use it to make up to $50 per survey in your spare time from home to take online surveys, participating in Focus Groups and trying new products.
2. Swagbucks
Do you like to share your opinion? Receive points for each completed survey and exchange them for premium gift cards.
Give your opinion about movies, TV shows, shopping experiences, and even new products/services. Download the app today and be heard!
With the points earned performing easy tasks, you can either redeem for gift cards to Amazon and Walmart and Starbucks or get free money from PayPal.
For example, you can redeem a $5 Amazon gift card for only 500 points. (I've redeemed quite a number of free Amazon gift cards smoothly.)
3. Nielsen
Nielsen is one of the most legitimate market research companies that exist to date. You might have heard of "Nielsen ratings", usually it's synonymous with "TV ratings". Well, it's from the same company. The only difference is that you can get paid by downloading the Nielsen mobile app.
You get paid $50 for those who chose to participate in the program. This company will pay you $50 a year to keep their app on your favorite internet browsing device and they also give away $10,000 each month.
Now, you do get paid yearly, but since you'll only need to install the app and fill out the survey once, this is the easiest $50 you'll ever make.
4. InboxDollars
InboxDollars has lots of great offers to top off your earnings. Many members only check out the offers page from their desktop or laptop, but did you know there are tons of fantastic offers that are only available on mobile?
You can access these mobile-only offers from the InboxDollars app, or if you don't have the app, you can go to inboxdollars.com in the browser of your phone. InboxDollars.com is mobile-optimized, which means you can go to inboxdollars.com in the browser of your phone.
These offers are always changing, but right now, we have several great Android offers that you can complete from your mobile device to earn at least $5 in 5 minutes. Please note: while the offers may be completed within a short period of time, some of the offers may take 3-7 days or longer for earnings to credit to your account.
5. MyPoints
Unlike other rewards websites that are less than legit, MyPoints has been here since 1996. That's almost 25 years of solid reputation under its belt, earning MyPoints points for street cred. But even without that kind of a name, you can tell that MyPoints is a solid deal. Signup is free (a good indication that MyPoints isn't in it for the money!), there are tons of ways to earn points, and redeeming your rewards is possible through a truckload of venues.
Here are just some of the offers MyPoints gives its members for racking up the big bucks fast:
Watch a movie
Play games
Read emails
Surveys
6. Vindale
Vindale is a secure, reliable and free survey site for anyone who wants to earn money online.
Easy online surveys. Hundreds of paid surveys added daily.
Millions paid. $7,939,326+ already paid to members.
Real money. Get paid cash not points via PayPal.
Any device. Take surveys at home or on the go.
7. IBOTTA
Ibotta app is 100% free to use. Get $20 SIGNUP BONUS.
After a large grocery shop, boom! cashback. After a trip to the mall, cashback!. Even after shopping for some items on Amazon, boom, CASH BACK! Cashback for every type of shopper, including online and in-store retailers.
Seriously, this is legit. You gotta try the Ibotta App, I continuously accumulate cashback on everyday purchases.
Receive a FREE $20 Bonus when you redeem 10 offers in the first 2 weeks!
8. GetUpside
Make Money at the gas station.
GetUpside is easy to use. Just open the app to see cashback offers near you, pay with any credit or debit card and take a picture of your receipt.
Earn cashback in your account and cash out whenever you want via PayPal, check or e-gift card. GetUpside works with major gas stations like Shell, BP, Exxon and more.
9. Acorns
Acorns is a micro-savings app that works by rounding up your purchases to an even number and investing the difference for you. By linking your credit card and checking account, Acorns reads your spending habits on your credit card and rounds each transaction up to the nearest whole number. It pulls the difference from your checking account and invests it in an Acorns account that you set up.
Acorns is a handy app for when you want to get your feet wet with investing. It's perfect for the younger crowd and has proven immensely popular with Millennials.
Try it risk-free! Receive a $5 sign-up bonus by signing up below.
10. Trim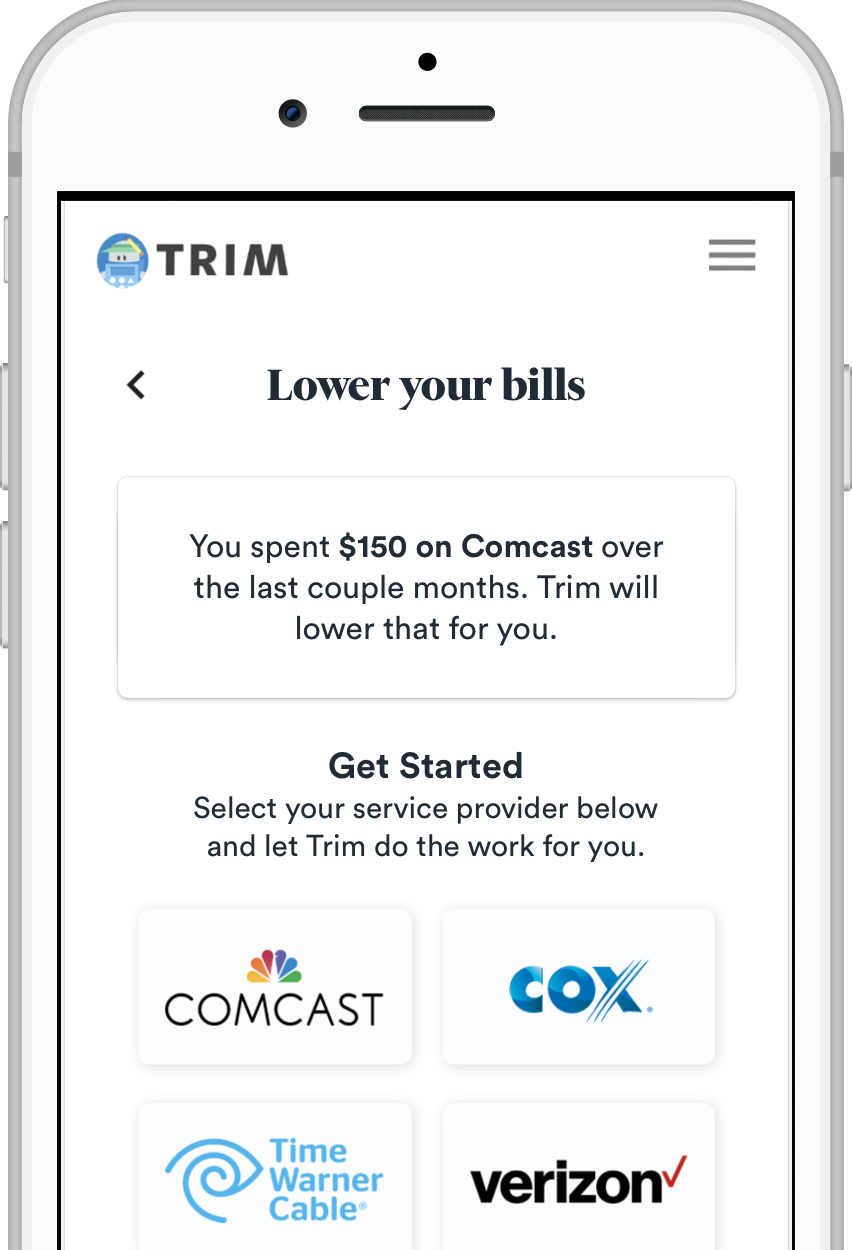 The idea behind Trim is simple. All you have to do is allow Trim to look through your spending, and the app will alert you to recurring charges that can be eliminated, or bills that can be negotiated lower.
If you want to, you can think about Trim like a free personal financial assistant that will go through your spending with a fine-tooth comb!
11. Wag
Get Paid To Be An On-Demand Dog Walker
Wag! App is basically an on-demand dog walking service. It connects busy dog owners with willing walkers in their area for pleasant walks of between 20 minutes and 60 minutes long.
You can think of it kind of like the Uber or Grab for dog walkers. It works on a similar GPS-based pickup system.
The only difference is that instead of picking up a passenger, you'll be picking up a dog; and instead of taking them to their destination, you'll be taking them to stretch their legs and use the bathroom!
12. Paribus
If you purchased something online within the past year, and that item decreased in cost, the store might owe you a refund. With the money-saving Paribus App, you can take back your money and get refunded for things that you've already bought!
Yes, you read that correctly. It is possible that stores owe you money! Paribus just secured 2 free months of Amazon prime for my mom (compensation methods can vary).
13. Fundrise
Fundrise is a real estate investment platform. It's a new way to invest by using crowdfunding to pool funds with other investors in order to purchase properties.
The company founder, Ben Miller, started Fundrise with the idea to make real estate investing accessible to everyone.
The investment platform is open to anyone who is a U.S. resident 18 years or older. The minimum investment is only $500.
Investors are paid in 2 ways:
Quarterly dividends
 Appreciation in share value
14. Rakuten
You've probably heard of Rakuten (formerly Ebates) before for desktop, but they also have a mobile app.
All you have to do is shop at the stores you love (either online or in-person), and you get cashback on your purchases. If you take advantage of special events, holidays, and promotions, you can earn up to 12% back in some cases.
Better yet, they're offering new users $10 just for signing up.
15. Decluttr
Decluttr is an app that you can use to sell your unused, unwanted DVDs, games, and/or CDs. The process seems pretty simple, according to the Google Play Store. You simply scan the barcode of the item and then check the app to see how much cash you could get for it.