Wordfence is one of the most popular security plugins for WordPress. But there other choices available as well, so in this post, we dive into the top Wordfence Alternatives that have been tried and tested.
First, let's discuss a bit about Wordfence.

The Wordfence security plugin has a malware scanner and an endpoint firewall that was created from scratch to protect WordPress sites.
The threat defense feed of Wordfence provides the latest firewall rules, malware signatures, and malicious IP addresses needed to protect your website.
It also includes 2FA and a host of additional features, which make Wordfence, a thorough WordPress security solution.
The Top 9 Wordfence Alternatives
1. iThemes security

iThemes Security (formerly Better WP Security) is an alternative to Wordfence as it offers more than 30 ways to protect your WordPress site.
This plugin works to fix common loopholes, block automatic attacks, and strengthen user credentials in WordPress.
This plugin has been made by iThemes, a company that has been developing and supporting WordPress tools since 2008, so you are assured of the quality of this plugin.
By upgrading to iThemes Security Pro, you get professional support from experts and many additional features, including 2FA, Automatic Malware Scanning, Google reCAPTCHA, Command-Line Integration, etc.
2. All In One WP Security & Firewall
The next alternative to Wordfence, on our list, is All In One WP Security & Firewall.
It is a comprehensive but at the same time very easy to use WordPress security plugin.
This plugin can reduce security risks by checking vulnerabilities and implementing and applying the latest security practices recommended by WordPress.
All In One WP Security uses an unparalleled security point rating system to measure site protection based on enabled security features.
The firewall rules are classified into three categories: "basic," "intermediate," and "advanced." You can choose the right setting for your website without worrying about the details.
Plus, it is completely free to use, so try it out without any worries.
3. Shield Security
Shield Security is one of the highest-rated security plugins for WordPress and hence can be a substitute for Wordfence.
This plugin does all the heavy lifting for you and only warns you of the absolutely important stuff requiring immediate attention.
Shield Security does all of the following automatically:  Spam Comment Blocking, IP Blacklist, File Change Detection, Brute-Force Blocking.
It is an amazing plugin having loads of features. I highly recommend you try this if you are looking for a Wordfence alternative.
There is no harm in trying this plugin out because it is free, and you can use this plugin alongside other WordPress security plugins like Wordfence.
4. Sucuri Security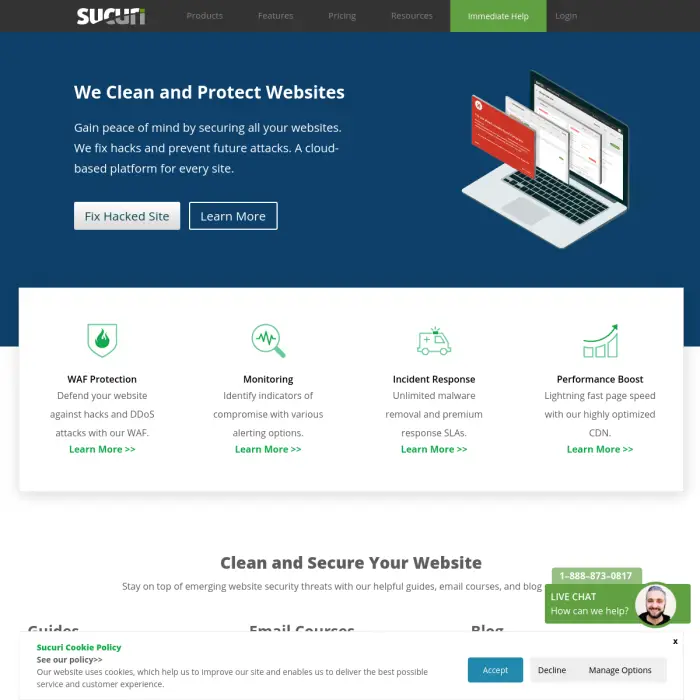 Sucuri Inc. is a world-renowned authority on all website security issues, specializing in WordPress security.
The Sucuri Security WordPress plugin is free for all WordPress users.
It is a security suite designed to complement your existing security solution.
It offers its users a series of security features for your WordPress website:
Control of security activities
Remote malware analysis
Effective security protection
Blacklist tracking
File integrity monitoring
Security notifications
Post-hack security actions
Website Firewall (Premium)
The Sucuri Website Firewall is best in class, and I highly recommend you
upgrade to it
because that's where the real value of Sucuri lies.
5. Cerber Security, Anti-spam & Malware Scan
Cerber Security is a plugin that can defend your WordPress site against hackers, spam, Trojans, and malware attacks.
It can help you reduce brute force attacks by limiting the number of login attempts through the login form, and other programmatic ways used by hackers.
This plugin also blocks spam using a dedicated Cerber antispam engine and Google reCAPTCHA to protect contact, registration, and comment forms on your website.
Strengthen WordPress with a flexible set of security rules and sophisticated security algorithms.
Restrict access with black and white IP access lists.
You can use the plugin to create a custom login UR for yourself, this way you won't expose your site to automated attacks.
6. Security & Malware Scan by CleanTalk
The CleanTalk WordPress plugin protects your website from online threats and offers you excellent security tools to control the security of your website.
Also, all the security logs are stored in the cloud for 45 days.
The CleanTalk security firewall has a limit for requests to your website, and if an IP address exceeds this threshold, it will be added to the firewall. This allows you to take down DDoS attacks.
CleanTalk security traffic control will monitor all visitors and the HTTP requests made and can help minimize the load on your web server.
7. SiteLock

SiteLock is another popular Wordfence alternative that offers malware scanning, DDoS protection, and many more features.
It is one of the fastest website scanning solutions that automatically finds, fixes and prevents vulnerabilities, giving you the peace of mind you deserve.
Daily, SiteLock scans your WordPress themes, plugins, and files for possible vulnerabilities that can cause blacklisting of your sites or a bad experience for visitors.
If malware is found on your website, SiteLock automatically fixes it and notifies you about it. You also get a detailed browsing report, using which you can take immediate steps to protect your site.
The SiteLock firewall can tell apart human traffic from bot traffic and protect your website from bots by excluding them.
8. Defender WordPress Security, Malware Detection, and Firewall
Defender by WPMU Dev adds the best of WordPress security to your website in a few clicks.
It can block SQL injections, brute-force attacks, cross-site XSS scripts, and other WordPress vulnerabilities with Defender malware analysis, firewall, and two-factor authentication.
With this plugin, you wouldn't find it necessary to go through horribly complex configurations as it adds all the security and reinforcement settings you need.
The plugin has features like:
Two-factor authentication
Login URL Mask
Geolocation IP block
Connection Blocking
404 detection
WordPress security firewall
Default WordPress database prefix change
You can use the plugin to run free malware scans that check your WordPress files and database for suspicious code.
The Defender analysis tool compares the WordPress installation with the directory, reports the changes, and allows you to restore the original file with a click.
9. NinjaFirewall (WP Edition) – Advanced Security
NinjaFirewall Plugin is a true firewall for web applications. Although it can be installed and configured as a plugin, it is a separate firewall located in front of WordPress.
It allows you to take advantage of very advanced security features that are generally not available at the WordPress level, but only in security applications like Apache ModSecurity module or Suhosin PHP extension.
NinjaFirewall can reject any kind of request sent to a PHP script before it reaches WordPress or one of its plugins.  It will also filter shell hacking scripts, encrypted PHP scripts, and backdoors.
It has the ability to detect techniques used by hackers to bypass the web application firewall.
By installing the NinjaFirewall, you can protect your website from overwhelming brute force attacks.
Conclusion: Wordfence Alternatives
So, this was the list of the Wordfence Alternatives that have proven their worth when it comes to securing a WordPress site.
Now, it is not recommended that you go on to install each of these plugins on your site(s). Doing this is risky and will definitely slow down your website.
Take a look at the features mentioned and your budget to make an appropriate decision.
Really Simple SSL Alternatives
How to Justify Text in WordPress