Ezoic has just launched its Site Speed Accelerator tool and it has taken the Ezoic community by storm!
For those of you who are not familiar with Ezoic, let me give you a quick brief about it. Ezoic is a Google-certified partner and the world's largest ad-testing platform that helps website owners increase their earnings by orderly testing and optimizing their ad placements and layouts.
Let me tell you that if you are not using Ezoic then you are leaving lots of money on the table. You can go ahead and sign up for Ezoic here.
The Issue
Those you have used Ezoic before and are using it currently must have noticed that Ezoic drastically slows down their website. This is a problem that worries most website owners as Page Speed is becoming an increasingly important factor in Google Rankings. Not only that, users hate visiting a slow loading site.
This question has been asked the most to the Ezoic team and they have been working on a solution to maintain the site speed with the ads well optimized.
The good news is that the remedy is here now!
Site Speed Accelerator
The Site Speed Accelerator can increase the page load speed of any website within a few clicks. No complex coding required!
So much so that Ezoic guarantees a mobile Google PageSpeed score of over 80 (which is awesome)
The Site Speed Accelerator was created because Ezoic realizes the extent to which publishers value site speed, and until now, it has been a huge challenge for publishers to monetize their sites with ads and maintain a good site speed score.
Ezoic ensures that its technology works flawlessly and does not lead to any loss of revenue for any publisher.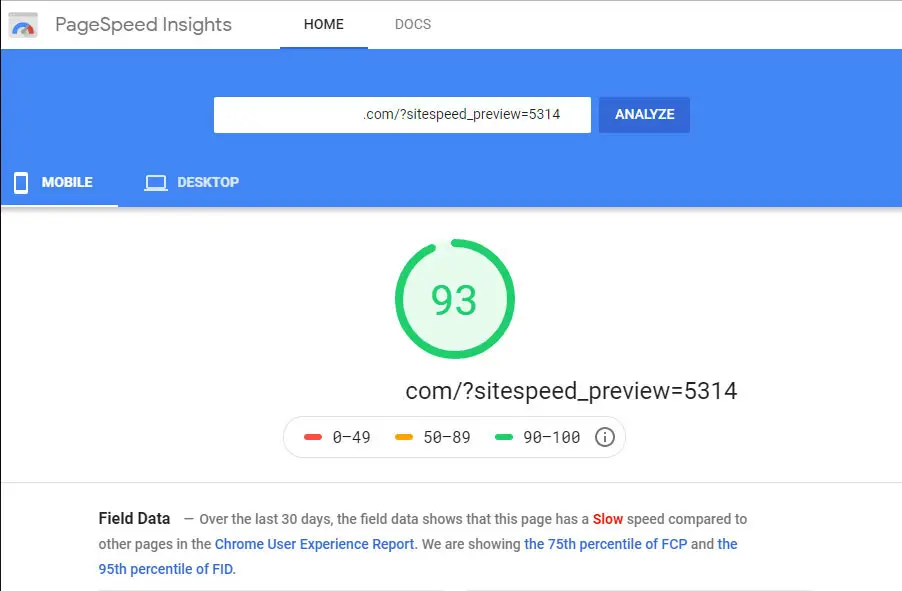 How does Site Speed Accelerator Work?
Most publishers sites are — as a whole — extremely slow because of any or more of the following reasons:
WordPress and all CMS slow sites down
Most hosts slow sites down
Lack of CDN slows sites down
Every plugin, 3rd-party script in the header/footer, etc. slows sites down
Poorly written CSS and WP themes slow sites down
and all ads slow sites down
Ezoic Site Speed Accelerator offers four options to choose from namely:
Conservative
Recommended
Experimental
Custom
Selecting Conservative will pre-select the following options:
Critical CSS
Lazy Load Images
Resize Images
Selecting Recommended will pre-select the following options apart from the ones in Conservative:
Efficient Static Cache Policy
Pre-Connect Origins
Script Delay
Ad Delay
Lazy Load Iframes
Selecting Experimental will pre-select the following options apart from the ones in Recommended:
Remove Unused CSS
Remove Unused CSS by Page
The new features included in the Site Speed Accelerator give publishers a super fast site no matter what. There's nothing else that offers this.
Ezoic is a technology, not an outsourced ad ops shop, but anyone else claiming to offer speed increase…"free" is not going to deliver an 80+ speed score.
In fact, most actually recommend not showing ads on the first page view to increase speed (reluctantly admitting that you'll sacrifice lots of money for speed).
I'd venture to guess it is basically impossible to display ads on a site without making it slow in most speed score tool without Ezoic (or having AMP, which has a lot of caveats and sacrifices of its own).
How to use Ezoic Site Speed Accelerator?
Step 1
The first step is to integrate your site with Ezoic.
There are three ways to do this:
Via Cloudflare
Via Ezoic CDN
Using WordPress Plugin
Step 2
Click the Speed Tab and turn on speed functionality for desktop, tablet, and mobile.

Step 3
Turn on Caching by installing the Ezoic Caching App.
Step 4
Turn on Ezoic Site Speed Accelerator.
Step 5
A popup box as shown below will come up. Choose any of the four settings as discussed above. The recommended setting will be chosen by default.
Since the tool uses a versioning system you can play around which various settings and use the preview button to check out the site without actually implementing the settings.
Make sure to check that everything is functioning as normal, look at the images, menus, etc.
Step 6
The best part is that you can actually check out the page speed on PageSpeed Insights without activating any of the settings. So go here and check out the page speed for each of the settings that are working for you.
Step 7
Deactivate all the caching or site speed plugins on your website as they won't be needed and unnecessarily increase the load on the server.
Step 8
Activate the settings and enjoy your super-fast loading website.
The Catch
The Ezoic Site Speed Accelerator's features will be free until the 15th of January 2022.
These features will be an additional add on option for publishers.
Pricing will depend on the number of pageviews the site gets, what other features are being used on Ezoic and if you are a member of Premium.
Publishers electing to just use the Site Speed Accelerator will see pricing start at $19.
This would be a good time to use this tool and decide objectively for yourself the value of speed. You can sign up for it here.
Conclusion: Ezoic Site Speed Accelerator Review
I highly recommend you to try out this amazing tool to increase your page load speed while it is free. So you will have enough data to infer whether this works for you or not.
Feel free to put in your views/results in the comments below.
Also if you have any questions regarding the Site Speed Accelerator, you may reach out to [email protected]. Their Site Speed Specialists will definitely be able to assist you.
7 Time Management Tips for Bloggers
Acabado Theme Review (Stupid Fast! WordPress Theme)