MediaVine and AdThrive are definitely the top choices when it comes to monetizing website content with ads. In this post, we compare the two ad networks to find out which one is better for publishers and why.
The major difference between AdThrive (now Raptive) and MediaVine is that of eligibility. The minimum threshold for websites to join Adthrive is 100,000 monthly pageviews, whereas for MediaVine, it is 50,000 sessions per month. These metrics are verified from Google Analytics reports. Also, Adthrive tends to offer higher earnings per ad than Mediavine.
MediaVine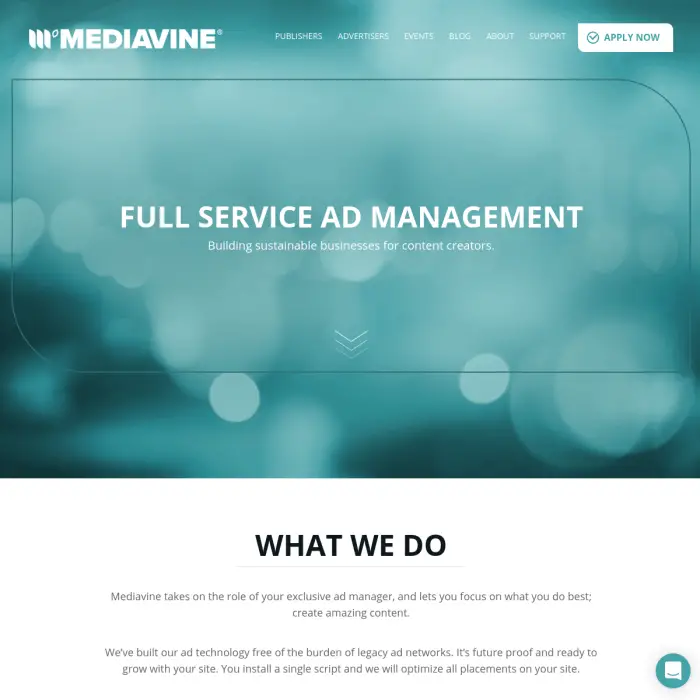 MediaVine is more than just an ordinary ad network. It is more of a complete ad representation service for your website. Currently, over 6,800 publishers are working with MediaVine as the exclusive ad manager for their websites.
June 15, 2022 Update: MediaVine has raised their traffic requirements.
Requirements
High-Quality Website having original and engaging content
Good standing with Google AdSense and Google AdExchange
50,000 monthly sessions (Page Views are different from Sessions)
Earnings
The amount of money you earn by placing ads on your website depends on the average Mediavine RPM of your website's niche. For the uninitiated, RPM is Revenue per mil or estimated earnings per 1000 impressions.
The RPM depends on a plethora of factors, some of which are your audience demographic, website topic, device used by the reader, etc.
The average RPM of websites running MediaVine Ads is about $15, which means you can expect to earn around $15 per 1000 sessions on your website.
Again, do note that the RPM can be more or less depending on other factors.
Feel free to check out the income reports of various bloggers running MediaVine ads here.
Payment
As publishers, you will always be paid on time and in full. MediaVine's core mission is helping content creators grow sustainable businesses so that those earnings are as robust as possible, no matter the circumstances.
Mediavine pays on a NET 65 basis. Below is the detailed payment schedule.
For reference, examples of websites running MediaVine Ads are:
thecleaneatingcouple.com
finsavvypanda.com
livingthedreamrtw.com
chicpursuit.com
AdThrive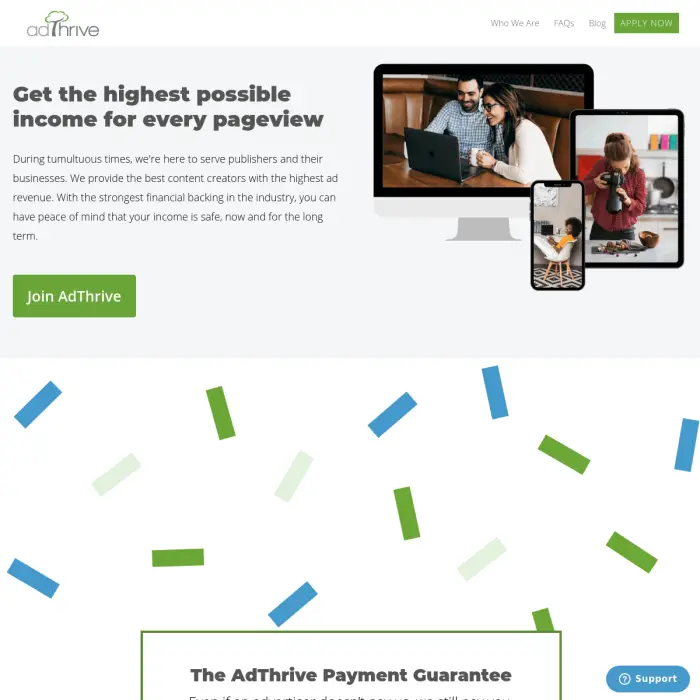 AdThrive is at the top of the line ad management service providing complete Ad Optimization, Management, and Support to its publishers.
Requirements
It is evident that a premium network such as AdThrive will have a rigorous application process, and only superior quality websites will be able to partner with them.
Minimum of 100,000 monthly pageviews as per Google Analytics
Majority of Audience should be from the United States.
Clean History with Ad providers
Unique, original, and engaging content
Earnings
The AdThrive Dashboard shows RPM and RPS separately. RPM is revenue per 1000 page views, and RPS is revenue per 1000 sessions. These are just metrics used to analyze how ads are performing on your website.
Do note that RPM will always be lower than RPS because Page Views will always be greater than Sessions.
The average RPM of websites running Adthrive Ads is about $20, which means you can expect to earn around $20 per 1000 pageviews on your website.
Payment
The best part about AdThrive is that they guarantee full payments for publishers, even if advertisers don't pay them. This is just awesome.
AdThrive pays on a NET 45 basis. Below is the detailed payment schedule.
For reference, examples of websites running Adthrive Ads are:
ytravelblog.com
thecountrychiccottage.net
mannersmentor.com
sportsfeelgoodstories.com
AdThrive vs MediaVine
The average revenue lift on switching over from MediaVine to AdThrive is 39%.
Compared to other ad providers, including Mediavine, AdThrive is able to bring publishers more money per ad, and there are a few reasons for this:
The most important reason is the quality of sites in the AdThrive network. They are very picky about what sites can join AdThrive — in fact, they decline 75-80% of sites that apply. Because advertisers know that they are very selective, they trust that their community is full of sites that have high-quality, original content, and valuable traffic.
Their scale is very attractive to advertisers. Because they use the aggregate size of all the sites they partner with, advertisers come to AdThrive to get the quality AND number of impressions they are looking for. Other networks have a hard time getting the attention of the high-paying advertisers that their scale also allows them to work with.
AdThrive's sales teams and ad technology is the best in the business! Many ad providers have the misconception that all ad networks work with the same ad partners.  AdThrive is different! Their awesome team is constantly on the road meeting face-to-face with some of the best advertisers out there and sharing the story of their awesome publishers so that they can bring in AdThrive-exclusive campaigns. They work with all of the top advertisers in the business, and their technology ensures that the highest paying ad shows on every impression. If an advertiser wants their ad on your site, they'll have to pay more than anyone else.
AdThrive's team members are data nerds! They have a whole team behind the scenes that crunches numbers and metrics all day long to make sure the ads you're running on your site are set up to attract the highest paying advertisers while also keeping in mind reader experience. They don't run ads if they aren't designed to bring in money.
AdThrive has a 100% fill rate. This means that no ad space is left behind. ???? The ad spaces are filled 100% of the time with the highest-paying ad available for that impression.
Ok, that's enough of appreciation for AdThrive. MediaVine is an excellent company too ????
 MediaVine excels at customer service, reporting, site speed, engineers, and overall innovation. 
There's a reason that more than half of 6800 sites (running MediaVine ads), that have more than 100,000 sessions each month, and many of those even over one million sessions have stayed with Mediavine.
Conclusion:
In this article, I have compared the two ad networks, AdThrive and MediaVine.
I know all of that may have been a lot, but I hope it helps you in your decision-making and goal-setting process.
If you have any other questions just let me know in the comments below and I'll help you out.
Also, if you are not at a stage wherein either of these networks would accept your site, I recommend you to try out Ezoic. It pays out much more than Google Adsense and will help you generate some startup revenue to grow your website.
14 Best Ad Management Plugins for WordPress