In this post, we take a detailed look at the 14 best ad management plugins for WordPress in 2022.
Ads may not be the best way to monetize a website but they are definitely the easiest to implement. Once you have traffic, all you need to do is insert a few lines of ad code on your website and you can start making money.
Now, WordPress by default does not have dedicated functionality for ad management, thus you need to use plugins for the same.
The ad management plugins mentioned in this article will make your life much simpler by managing the ads for you. They will also help you to increase your ad revenue.
You can use ad management plugins to implement display ads from an ad network such as Google Adsense or sell ad space directly to buyers.
Since monetization is a crucial aspect of any website, you should definitely use a reliable ad management plugin for your website.
All of the plugins mentioned in this list are tried and tested, so be assured of their quality.
Also to make your job easier we have added a dedicated section on Choosing the Best WordPress Ad Management Plugin
Let us get started with the list.
AdSanity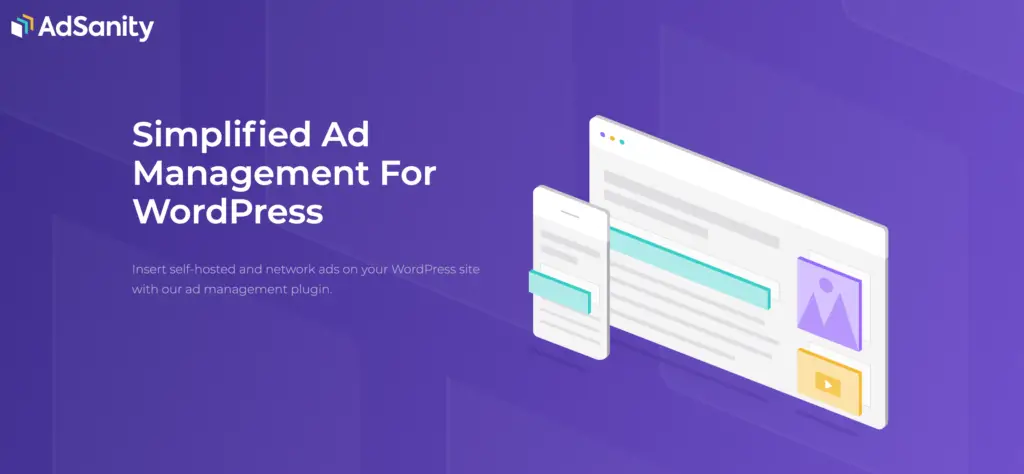 AdSanity is a consolidative WordPress plugin that transforms your WordPress website into an ad server without interfering with your content.
You can use the plugin to display ads from most ad networks or host ads locally on your site.
Not only does it allow you to create and manage ads shown on your website, but it also displays statistics on the views and clicks.
The top features of AdSanity are:
Lightweight plugin
Add-ons available for extra functionality
Visual statistics in the form of graphs
HTML5 Ready
Multiple Publishing Options
Numerous Display Options
Developer friendly
First Class Support
The basic add-ons namely, Custom Ad Sizes, Video Ads, and Ordered Ad Group Widget are included with the purchase of AdSanity.
There are pro add-ons available as well for more advanced features. The pro add-ons are Impressions, Rotating Ad Widget, Advertiser Reporting, Google Analytics Tracking, Conditional Ad Appearance, Ad-Block Detection, User Role Ad Visibility.
AdSanity Pricing
The first plan, Just the Basics includes the core plugin (of course) and basic add ons along with all updates made to any of them.
The All-in-One Plan comprises everything offered in the basic plan plus access to all pro add-ons and their updates. The best part is that you get unlimited licensing which means that you can use the plugin on any number of WordPress sites you own.
All-in-One for Life is the same as All-in-One, it is just that you need to only pay once for lifetime access.
Get started with AdSanity by clicking here.
| License | Price |
| --- | --- |
| Just the Basics | $49 (per year) |
| All-in-One | $149 (per year) |
| All-in-One for Life! | $489 (one-time) |
Advanced Ads

Advanced Ads is my go-to plugin for ad management in WordPress. It has all the features you would ever need for ad management.
It is a robust and convenient-to-use ad management plugin for WordPress. A powerful, lightweight, and straightforward solution to managing ads in WordPress.
It is a plugin that Google recommends using as well.
Let us look at the notable features of Advanced Ads:
No limit on the number of ads to manage
Implementing Google AdSense ads is a breeze
Flexible ad types
Works on sites with caching enabled
Schedule Ads
Increase page speed by lazy loading ads
Display ads on super-fast mobile pages with AMP
Conveniently track performance and view Reports
Increase your revenue by selling ads directly on your site
GDPR Compliant
A/B testing
Click Fraud Protection
Test ad networks
Manages your ads.txt file
Plentitude of placements
and the list goes on! You cannot ask for more.
Advanced Ads Pricing
I am sure you will like the free version of the plugin but if you want more then you can purchase Advanced Ads Pro.
All the plans come with a 30-day moneyback guarantee and are valid for a single site.
| License | Price |
| --- | --- |
| Advanced Ads Pro | €49 |
| Advanced Ads All Access | €89 |
| Advanced Ads All Access (Long term) | €199 |
WP QUADS
WP QUADS is a revamped version of an enormously successful plugin named Quick Adsense. This was much needed as the Quick Adsense plugin has been discontinued.
The top features of WP QUADS plugin are:
You can import all previous ad settings from the former plugin Quick AdSense.

It does not require any external script.

Ad Positions: Start, middle, and end of the post, after ' read more' tag, before the last paragraph, after specific paragraphs, after images.

Supports all types of ads, not only Google Adsense.

The free version allows you to manage up to ten ads. 

Use shortcodes <!–Ads1–>, <!–Ads2–> … to insert ads in a post

Disable Ads on specific posts using shortcodes.

You can use shortcodes from other plugins within the ad code.
The paid version of the plugin WP QUADS Pro has the following additional features:
Unlimited ads
Ads on AMP pages
Responsive Ads
Apply Visibility Conditions
WP QUADS Pro Pricing
| License | Price |
| --- | --- |
| Personal (1 site) | €89 |
| Business (5 sites) | €139 |
| Pro (unlimited sites) | €199 |
| Ultimate (unlimited sites) | €449 |
Ad Inserter
Ad Inserter is an ad management plugin for WordPress sites with several exceptional ad management features.
It supports all kinds of ads, including Google AdSense, Google Ad Manager, Amazon Native Shopping Ads, Media.net, etc.
You can use this plugin to insert ads, header scripts, opt-in forms, analytics tracking codes and much more.
Basically any form of Javascript, CSS, HTML, PHP can be inserted anywhere on the page.
It is recommended by both Google and Amazon.

Ad Inserter Pro Pricing
Each license listed below includes free email support and plugin updates for 1 year.
If you are already using the free version of Ad Inserter and would like to upgrade, click here.
| License | Price |
| --- | --- |
| Personal (2 sites) | €20 |
| Freelancer (5 sites) | €30 |
| Business (25 sites) | €50 |
| Corporate (100 sites) | €100 |
Adning Advertising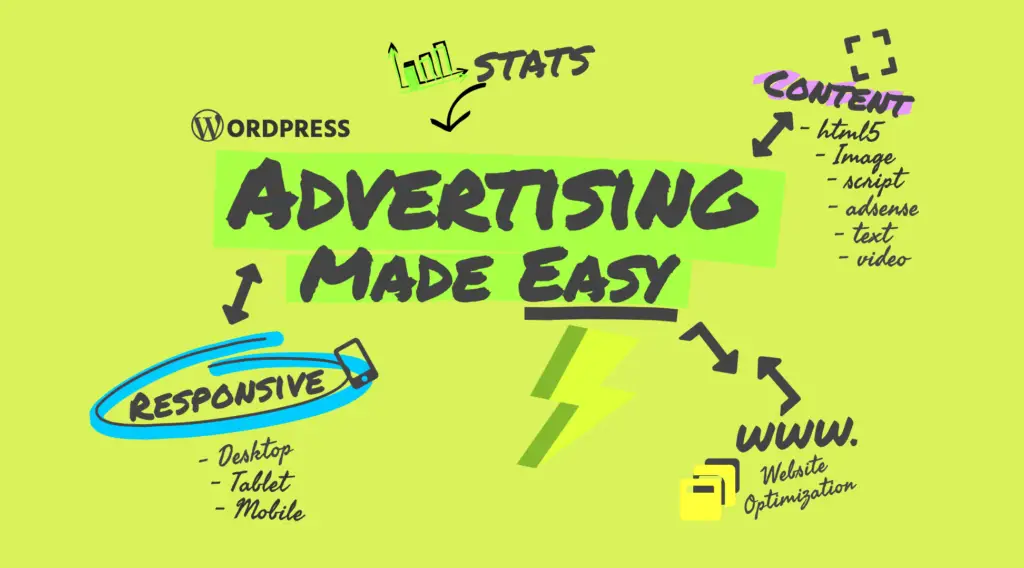 Adning Advertising is the most elementary yet most precocious ad management plugin for WordPress.
The top features of Adning Advertising are:
Use all popular ad networks
Automatic Ad Positioning System
Use HTML5 banners
Create Post Banners
Easily integrate Google Adsense
Ad display filters
100% responsive ads
Show or Hide ads by country
GDRP ready
Sell ads spots (payments handled either by Adning checkout system or Woocommerce)
Adning Advertising Pricing
You can grab Adning Advertising plugin for a one-time fee of just $29.
It includes future updates as well as six months of support from the developer (tunafish)
| License | Price |
| --- | --- |
| Regular | $29 |
| Extended | $198 |
AdRotate Banner Manager
AdRotate Banner Manager is a free WordPress plugin that allows you to initiate, manage, and run thriving advertising campaigns on your WordPress website within moments.
This plugin helps you to place ad banners practically anywhere on your website effortlessly. You can manage all the ads from a user-friendly to use dashboard. No need to mess around with the theme code.
Along with basic HTML and JS ads, the plugin supports the following ad servers:
Media.net
Yahoo! Adverts
Google AdSense
DFP
Unity Ads
Rubicon
Pubmatic
Google Ad Manager
Amazon Associates
Chitika
Monumetric
Bing Ads
Ezoic
Of course, it supports many others as well, you can try them out.
The top features of AdRotate Banner Manager are:
Simple management of Ads, Schedules and Groups

Shows the data on how many times an ad has been clicked and it's Click-Through-Rate (CTR)

Automatically disable ads after they expire

Use shortcodes, widgets or PHP code to insert ads on your site

Automatic rotation of ads with Dynamic Groups

Get notifications when ads are about to expire

Show many adverts simultaneously in a grid, column or row

Compatible with responsive ads

Have your advertisers or sponsors add/edit/manage their ads (pro version)

Obscure adverts from ad blockers, so they're less often blocked
AdRotate Pricing
AdRotate Banner Manager is a free plugin available for download on the WordPress repository.
However, the developer does offer a feature-rich version of the plugin named AdRotate Professional.
| License Type | Price |
| --- | --- |
| Single | € 39 |
| Duo | € 49 |
| Multi | € 99 |
| Developer | € 199 |
Better Ads Manager
Better Ads Manager by Better Studio is a plugin that allows you to place ads in pre-defined locations of your theme as well as the sidebar. It is completely compatible with Visual Composer.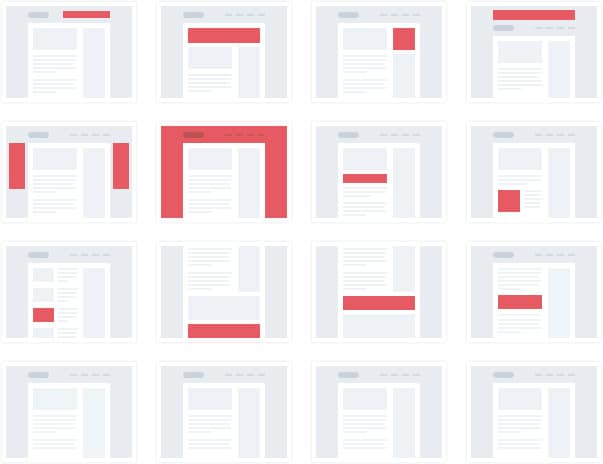 The top highlights of this plugin are:
Over 120 Ad Spots (locations)
Ove 20 AMP Ad locations
Override ad feature
Compatible with Google Adsense, Google DFP
Supports in-feed and in-article ads
Detects ad-blockers
Multi-column Ads
Fast-loading
Better Ads Manager Pricing
You can get the Better Ads Manager plugin for just $39. It is a steal deal at this price.
Ads for WP
Ads for WP is an innovative and advanced ad inserter WordPress plugin.
It is an open-source project which means developers around the world can contribute to its development.

Let us take a look at the notable features of this plugin:
Ease of use. No complicated stuff.
AMP support
Insert unlimited ads
Post specific ad visibility controls
Get ad shortcodes
Ads for WP Pricing
You can download and use this plugin for free, from the WordPress plugin repository.
Woody ad snippets
Woody ad snippets is a powerful WordPress plugin that helps you to insert and execute PHP, JS, CSS, HTML code snippets anywhere on your WordPress site.

The top features of Woody ad snippets include the following:
Easily manage header and footer code
Easy to use code editor with syntax highlighter.
Shortcodes functionality
Works with shortcodes of other installed plugins.
Create as many code snippets as you like
Pass additional attributes to a snippet using shortcodes
Apply conditional logic on code snippets
Quick export/import of code snippets to use them on multiple websites
Woody ad snippets Pricing
You can get this plugin for free from the WordPress repository here.
If you would like additional support and functionalities, you can buy the premium version of Woody ad snippets, details of which are mentioned below.
| License | Price |
| --- | --- |
| Basic (2 websites) | $19 / year |
| Business (50 websites) | $69 / year |
| Business Revolution (Unlimited websites) | $119 / year |
Ads Pro Plugin
Ads Pro is a Premium WordPress Plugin that helps you manage as well as sell ads on your website in a manner that no other plugin can.
You won't need any other plugin to manage ads if you use the Ads Pro Plugin.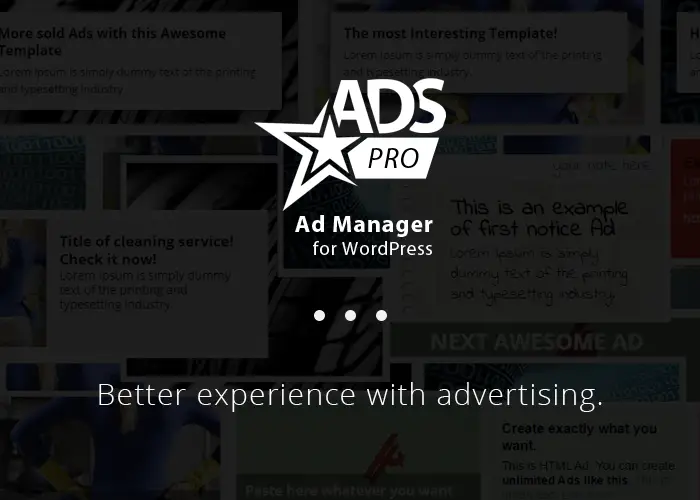 This plugin has got some of the most amazing features which you will definitely love:
All ad templates are responsive
Provides front-end user panel
More than 20 ways to display ads
More than 25 ad templates
Intuitive backend admin panel
Sell ads easily with various order forms, billing models and payment methods
Can be used on multi-site WordPress
Free Adblock detection
Randomize ads
Ads Pro Plugin Pricing
You can get this unique and impressive advertising manager WordPress plugin from here.
| License | Price |
| --- | --- |
| Regular | $57 |
| Extended | $285 |
WP In Post Ads
WP In Post Ads is a feature-rich advertisement management plugin for in-post ads on WordPress websites.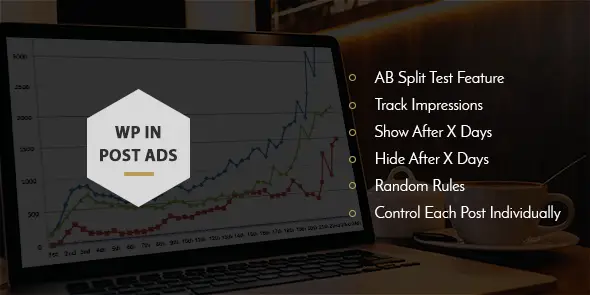 Here are the top features of WP In Post Ads plugin:
A/B split testing
Counts ad views
Show ads using shortcodes
Show / Hide ads after a pre-defined number of days
Hide ads for logged-in members
Integrates with Google Analytics
Display ads randomly
Supported by all themes
Detailed documentation
WP In Post Ads Pricing
| License | Price |
| --- | --- |
| 1 site | $29 |
| 3 sites | $39 |
| Unlimited sites | $59 |
Ultimate Ads Manager
Ultimate Ads Manager by Codeneric helps you create, manage and display advertisements as a shortcode or widget anywhere on your WordPress site.

The features of Ultimate Ads Manager are:
Easy to use
Integrates with Elementor
Receive weekly reports via e-mail
Group, Schedule Ads
Get statistics in the admin dashboard
Supports Google Analytics
Database Optimization (Premium Feature)
Ultimate Ads Manager Pricing
| License | Price |
| --- | --- |
| Basic | Free |
| Premium | $5.82 / month |
| Enterprise | $29.99 / month |
WP-Insert
Next up on the list of ad management plugins for WordPress is WP-Insert by SmartLogix.
It is a WordPress plugin that does much more than just ad management.

Here is a list of its features:
Gutenberg Support
Support for AMP
Choose to hide ads for logged in and/or mobile users
Embed code in Header / Footer of your website
Insert legal pages
Built-in caching
A/B Testing Facility
Supports ads.txt
Geo-targeting
WP-Insert Pricing
You will be happy to know that despite having premium features, this plugin is completely free to use. Download it from here
WordPress Ad Widget
WordPress Ad Widget Plugin is one of the simplest plugins that you will find on this list.

Once you install and activate this plugin, you will get two additional widgets:
Ad: HTML/Javascript Ad
Ad: Image/Banner Ad
You can create ads or insert ad code in the WordPress widget editor. Next, place the widgets in the location where you would like to place ads on your website and you are done.
WordPress Ad Widget Pricing
WordPress Ad Widget plugin is available for free on the WordPress Plugin Repository.
Conclusion: Best WordPress Ad Management Plugins 2022
Choosing the Best WordPress Ad Management Plugin
So these were our favorite plugins that definitely make ad management easier in WordPress.
Most of the plugins all the basic features you would need to get started, but some of them go beyond the basics and provide additional features such as Geo-targeting, Ad-block detection, A/B Testing, Click-Fraud protection, etc.
If you need a professional feature-rich ad management plugin then you can purchase any one of Adsanity,Adning, Ads Pro, Better Ads Manager.
If you need an ad management plugin that helps you sell ad space on your website, then I recommend Adning or Ads Pro.
If you are just starting out and not sure if you would need the advanced features, I suggest you go for Advanced Ads, because of two reasons. First, it is based on a freemium pricing model, therefore you can get started for free. Second, its pro version has all the advanced features you would ever need in an ad management plugin.
Simply enter your website URL below to get started.
If you need a completely free to use plugin with no paid add-ons, then WP-Insert, WordPress Ad Widget are your best options.
We hope this round-up of the best WordPress ad management plugins and solutions was useful and helped you find the ideal plugin for your needs.
Feel free to drop in a comment below mentioning your favorite ad management plugin.