Have you ever wondered how much your domain name is worth to potential buyers? It's a common question, but it isn't something you can easily find an answer to. Top-level domains are like fine art and antique cars… each one is special, and there are multiple ways to evaluate the value of any given domain name.
GoDaddy is the world's largest website and domain registry system. Their powerful domain name appraisal tool enables users to have an idea of how much their domain names are worth.
GoDaddy Bulk Appraisal Service
Faster, better domain appraisal experience!
The biggest problem with GoDaddy is that the appraisal process is not streamlined. It is too tedious and time-consuming to fill out captchas for each domain name.
The good news is that there's an easier way to conduct bulk domain name appraisals!
Our GoDaddy bulk domain appraisal service is perfect if you need a way to request many appraisals to conduct research, investment analysis, or for any other purpose.
Our domain appraisal service will help establish an accurate market value of your domains whether you are buying, selling, or just getting a sense of their worth. Some viewpoints may persuade you to keep your domains for other uses in the future.
A domain appraisal is a complicated undertaking, and we have designed a way to deliver top-quality GoDaddy bulk domain name appraisals at a price that is affordable for everyone.
Place Your Order 
To place your order, send us an email (with the domain names you want to be appraised) and we'll reply with a quote for the bulk domain appraisal.
Current Status:  🔥 120+  orders have been placed in the past 24 hours.
Pricing
| No. of Domains | Price (USD) |
| --- | --- |
| 0-1000 | 50 |
| 1000+ | 0.05 per domain |
Frequently Asked Questions 
Q. How many domains can I submit?
Ans. You can submit an unlimited number of domains for a bulk appraisal at once; there is no limit.
Q. What TLD's can I submit?
Ans. You can submit any TLD (.com, .net, .io, etc.) for which you want the GoValue. There are no restrictions on the TLD's that you can submit.
Q. Do I need to own all the domains I submit?
Ans. No, you need not own the domains you submit. All you need to do is send us a list of the domains you want the Godaddy appraisal value for.
Q. What does the bulk appraisal report contain?
Ans. The bulk domain name appraisal report consists of
(i) A quick snapshot of your domains (see screenshot below)
(ii) An Excel/CSV file of your domains along with their GoDaddy Appraisal Value.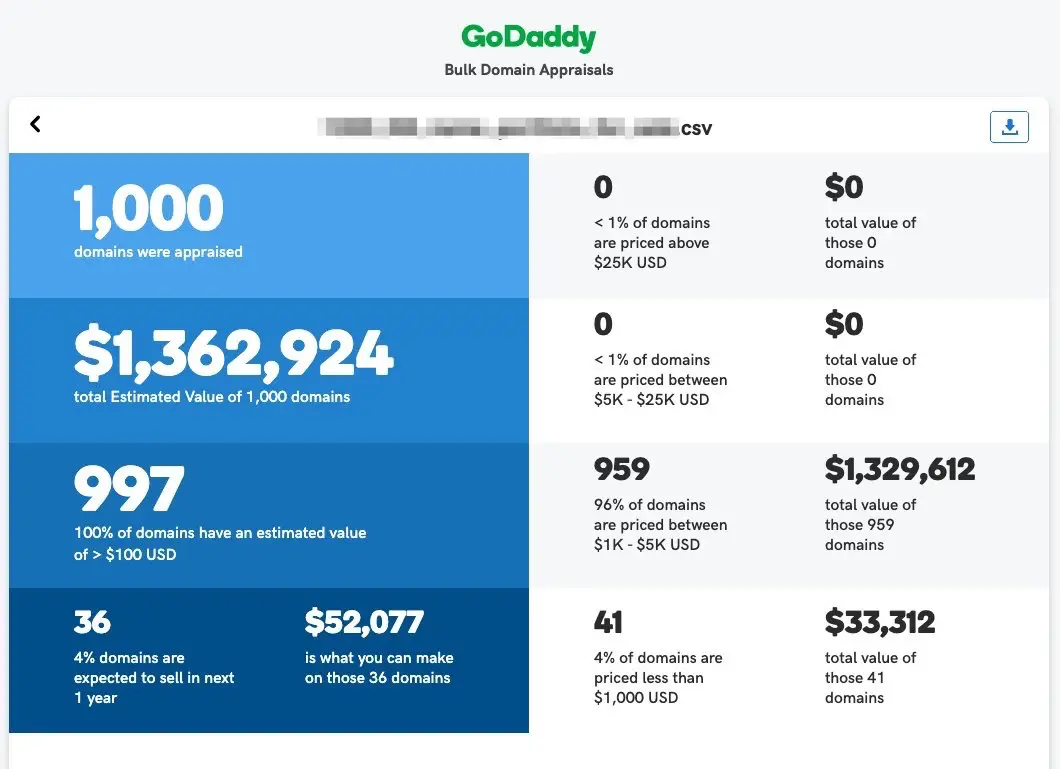 Q. How quickly will I receive my report?
Ans. Your report will arrive within 24 hr of your order. It will be shared with you via email.
Q. Is the report accurate?
Ans. Yes, the report will be 100% accurate. You can verify the data by manually checking the GoDaddy appraisal value of the domains.
Q. Do you offer refunds?
Ans. Due to the nature of our deliverables, we cannot offer refunds, but we are sure you will receive your domain name appraisals.
What is GoDaddy Appraisal?
GoDaddy Domain Appraisal is a web-based software application offered by GoDaddy aimed at helping people discover the fair market value of domain names. It is an estimation of the value of a domain name based on many factors like length, popularity, previous sales.
Since 2017, GoDaddy's domain appraisal tool has been helping domain owners sell their domains by giving them comparable sales data. Millions of domain owners have used their domain name appraisal tool to get a realistic sense of what their domains are worth in today's market.
How is GoDaddy's Appraisal Value calculated?
GoDaddy's domain appraisal tool is the fastest and most accurate valuation tool available. Over time, GoDaddy has cataloged every domain name every sold either by private sale or auction – more than 25 million sales.
Their appraisal uses this data to determine the estimated fair market value of domains (also called GoValue) that may have never been made public before. Using the valuation algorithm, you will know what others have paid for domains similar to yours, not just in one category but many categories so you can price your domains with confidence.
How can you use GoDaddy domain appraisal?
GoDaddy offers a domain appraisal tool, which has helped people make big money over the years. But I've often heard other online entrepreneurs asking questions, like: How can you use GoDaddy domain appraisal?
GoDaddy claims that their domain appraisal tool is a good way to discover hidden value in your domain. But there are other less obvious uses as well.
The tool can help you with the following:
Discover the estimated worth of your domains
Develop a domain appraisal process for your company
Identify and communicate your methodology to clients
Learn which domains have resale value
Find profitable niches
Find opportunities for outreach
Strategize how you'll promote the domain name
Start with a name that has worth or potential value
Keep an eye on the sales history of any domain name you're interested in
Seek out domains you like
Be willing to pay for a domain you dig
Pick the level of value that works for your budget
Domain arbitrage (domain flipping)
Is GoDaddy domain appraisal accurate?
GoDaddy's domain appraisal is a good starting point to determine the value of your domain name. It is estimated based in large part on the historical selling prices of domains similar to yours. As with all appraisals, it may not be an end-point but rather a beginning or a framework for further analysis.
GoDaddy regularly appraises domains for well-known companies and estimates the value of popular domains based on historic sales. The more often a domain is sold, the more likely they are to have an accurate appraisal.
Please note that the estimated value shown for each domain is not a guarantee of the sale price. It is determined using complex algorithms where other factors may contribute to your final sale price. In addition, estimated values do not necessarily reflect the actual retail price for any specific domain nor should they be used to set an asking price.
The estimated value of a GoDaddy domain name is calculated using historical sales data, third-party data, and other information. As you would with any vehicle, boat, or home purchase, you should make your own independent appraisal of the value of the domain.
Godaddy Appraisal vs Estibot
Do you want to know how much is your domain worth? Or how much should you sell it for? To answer this question, you will have to use an appraisal or valuation service. There are several appraisal services out there. However, we will focus on the two most popular ones which are Godaddy Appraisal and Estibot
GoDaddy as the largest domain name registrar has millions of historical records with which to work, so they are getting better results each day, which is why their domain appraisal is way better than Estibot's.
There is a lot of information out there on the topic of Godaddy appraisal vs. Estibot. The truth is that they are very different and come with their own sets of pros and cons. Some people say that both companies use more or less the same system, but they don't. There are some beneficial things about one but not about the other so it's up to you to decide which one to go for and in which circumstances one might work better than the other.
Conclusion: GoDaddy Bulk Domain Appraisal
Let's be real. Flipping digital assets is a REAL business. Successful businesses have systems in place to succeed. You should have one too!
You can use our service at any time to bulk appraise hundreds of thousands of domains that are for sale on major marketplaces and find their estimated worth. If you manage to find an interesting domain name, this service will help you decide whether it is worth buying.
We have already done the hard work for you. Save yourself weeks of time and hours of stress by placing an order now.
Did we miss something? Have a question about the service? Feel free to send us a message.
.com Domain Alternatives in 2022