To be visible on the Internet you need a domain name!
Having a unique and memorable domain goes a long way towards helping you build authority online.
Consider your domain name to be virtual real estate on the Internet. You would definitely want your property to be on a prime location which is popular as well as easily accessible.
Having said that, there is only a limited supply of premium domain names (especially .com)
Therefore in this article, we look at the  .com alternatives available in 2022.
First things first – What is a TLD?
TLD stands for Top Level Domain. 
A TLD is the part of the domain name that comes just after the "." (dot).
For example, in wpintensity.com, the TLD is com. In wordpress.org, the TLD is org.
There are quite a few types of TLD's, however, the most popular ones are generic top-level domains (gTLD) and country-code top-level domains (ccTLD).
As the name suggests, ccTLD's are established for countries/territories, all the others are gTLDs.
What about the .com?
.com was one of the original top-level domains (TLDs) to be established on the Internet when the Domain Name System (DNS) was introduced in January 1985.
The other TLDs at that time were:
The .com TLD is undoubtedly the most popular TLD on the internet today with no competition from any other TLD.  This is the reason why it is regarded as the king of TLDs.
Why .com is recommended?
Every corporation in the Fortune 500 list uses a .COM domain name.
Using a .com domain is always recommended because of a wide variety of reasons such as:
Trust
People have been seeing the .com TLD being used by the most authoritative brands and the owner of a .com domain is instantly trusted to be the primary owner of that virtual estate.
Fondness
Users expect a legitimate business owner to use a .com domain for their company/brand website.
Memorable
The first extension that users will type when they recall a brand name to visit their website is the .com. It happens naturally and you wouldn't want to lose out because of this.
Extra Traffic
As mentioned earlier, you might get additional direct traffic if someone intended to go on a similar domain name using another extension.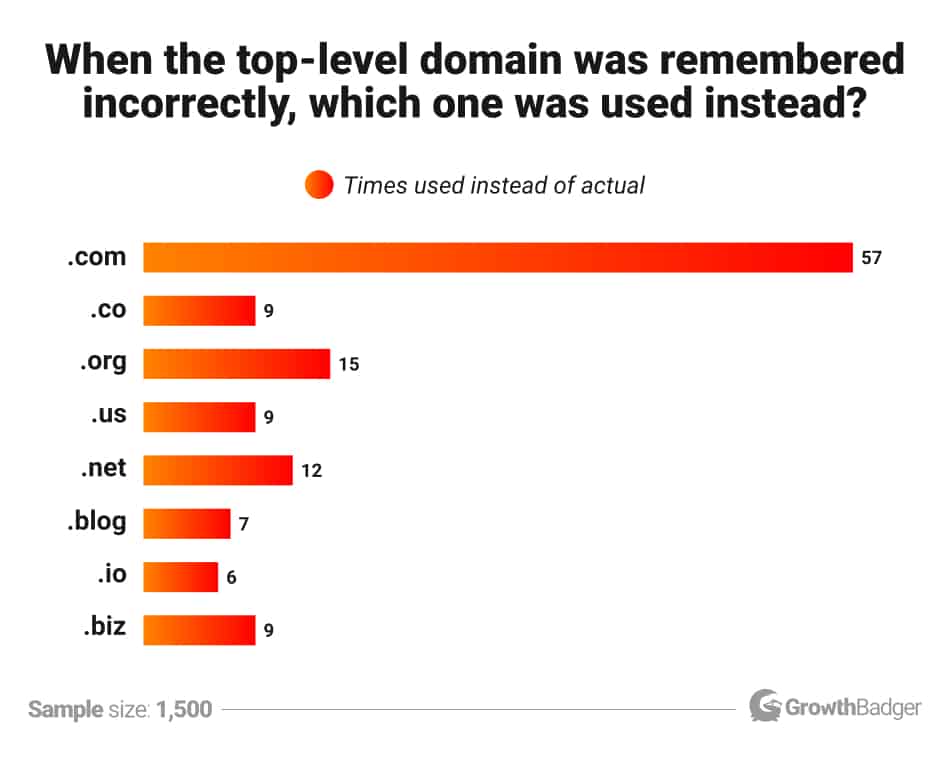 Professional
A website looks professional when it uses a .com domain and has SSL enabled on it.
Now there are more than a thousand TLDs available in the market as of now, with new ones being launched at a quick rate.
Incase the .com is unavailable or you are unable to acquire it from the owner, below are the options that you are left with.
The first is to stick with a .com domain but use a name similar to the one you wanted by adding some modifiers to it.
A real-life example of this scenario would be the sleep company using CasperSleep.com instead of casper.com because of the latter not being available. You can always rebrand later (as they did) but it can be quite expensive.
The second option again to stick with a .com domain but use a completely different name that is available.
An example of this is Ring, the home security and smart home company that used DoorBot as their name initially instead of Ring.
The last option is to settle for a TLD keeping your original name. It won't hurt much if most of your visitors come organically via search engines.
Most Popular .com Alternatives
There are more than a thousand alternative TLDs to choose from, but these are the most popular and reputed ones that you can consider.
.net
.net has a 6.57% share in terms of the total number of domains registered. It comes second only to .com which is the most dominant one with 71.82% market share.
Here are the top sites using the .net TLD:
csdn.net
ettoday.net
pixnet.net
savefrom.net
daum.net
slideshare.net
researchgate.net
8 speedtest.net
.org
.org has a 4.99% market share. It is the third most popular TLD after .com and .net.
The org stands for organization. Although this TLD was formerly intended for usage by non-profit organizations, this limitation was withdrawn in August 2019.
If you are interested in online fundraising, then the .org TLD is your best option.
Below are the top sites using the .org TLD:
wikipedia.org
telegram.org
craigslist.org
archive.org
thepiratebay.org
khanacademy.org
geeksforgeeks.org
ccTLDs
Another great alternative to .com is using a ccTLD. If you are targeting a specific country then using a ccTLD is a prudent choice as ccTLDs are trusted by the users of that country. It will also boost your rankings in local SERPs.
The most popularly used ccTLDs are:
.de (Germany)
.cn (China)
.uk (United Kingdom)
The most popular sites using ccTLDs are:
.io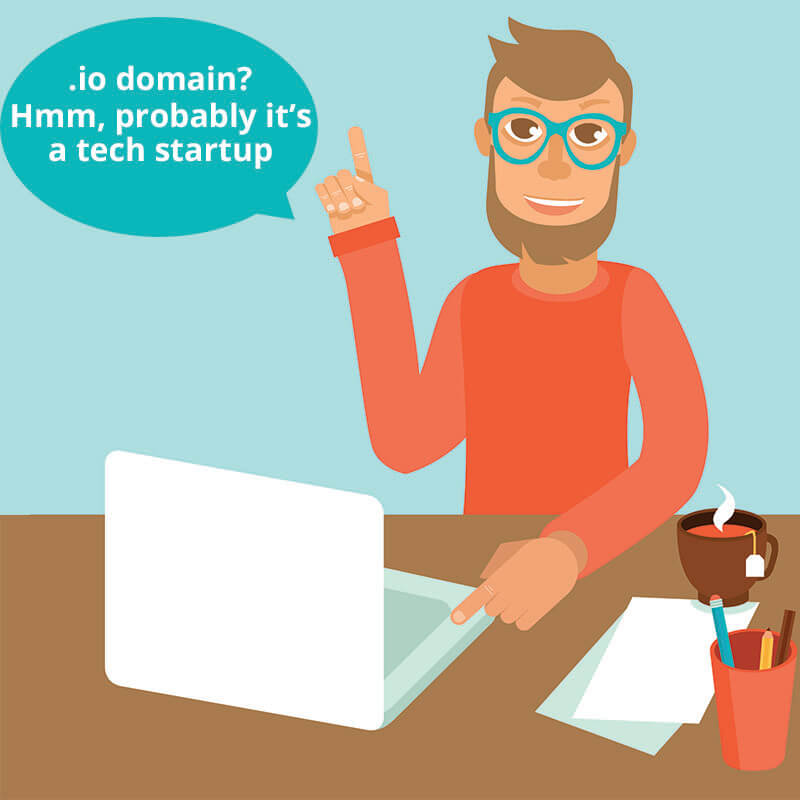 The .io TLD is trending among tech startups these days and is a viable alternative when the .com is not available.
Technically the .io is a ccTLD assigned to British Indian Ocean Territory, but the good part is that Google treats .io as gTLD so it won't localize your rankings to that specific region.
These sites are rocking it using the .io TLD and you can too!
greenhouse.io
codepen.io
angular.io
draw.io
hunter.io
density.io
webcamera.io
cex.io
.co
Just as the .io, .co is a ccTLD assigned to Colombia but it is used and considered as a gTLD by Google.
The benefit of this TLD is that it looks similar to the .com (just one letter removed). But there is a disadvantage here that visitors might be confused and type the .com instead. You'll end up losing traffic because of this.
Here are the most prevalent sites using .co:
convertio.co
gradeup.co
mixdrop.co
brainberries.co
visme.co
brighthouse.co
ta.co
.ai
.ai is the ccTLD for Anguilla. There is no doubt that Artificial Intelligence will dominate the future. If your company works in the field of AI, robotics, deep learning or machine learning it makes sense to grab a .ai domain.
These are some of the well-known sites that use the .ai TLD:
logomaster.ai
aspiration.ai
smartcat.ai
shortpixel.ai
seamless.ai
polly.ai
.tv
.tv is the ccTLD assigned to Tuvalu. This is a fabulous TLD to use if your website is in the television, film-making, media or video industry.
The most well-known sites using the .tv TLD are:
twitch.tv
ustream.tv
liverpoolfc.tv
amc.tv
kedoo.tv