DAN.com is a domain name marketplace that allows you to buy and sell domains in a simple and transparent way.
DAN.COM (Domain Automation Network) was founded in 2014 and is focused exclusively on solving the major issues faced by the domain name industry.
Their platform makes the process of buying and selling domains quick and efficient.
Most probably, you've stumbled across DAN.com because the domain you want for your business is taken.
You are not alone.
Since the Internet gold rush began in the 1980s, many of the first few users have gone and registered thousands of premium domain names. Some still monopolize these names to this day.
You can still purchase these premium domain names, but it will cost you thousands, if not millions of dollars. There are multiple websites now that sell these domains in the aftermarket with more coming every now and then.
The secondary market is where the buyer interested in acquiring an already registered domain offers or negotiates a price to gain ownership of that domain name.
The most accessible ones among end-users are GoDaddy.com, Sedo.com, Afternic.com, BrandBucket.com, HugeDomains.com, BuyDomains.com, DomainMarket.com, and many others.
To improve the efficiency and automation of processes in the domain name market, DAN collaborated with IBM, and IBM Business Partner Unchain in 2019 to use IBM Blockchain technology.
This technology is used to automate previously manual processes, such as transferring a domain name from one registrar to another.
DAN.COM For Buyers
DAN.COM has massive inventory (67,38,753 to be exact) of unused domains spread across 1482 domain extensions, which means that finding your ideal domain won't be much of a hassle.
Looking for something specific: they've got you covered.
On their search page, you can filter domains by extension (.com, .net, .org, .io, etc.), length, price, hyphen or non-hyphen, numerals or without numerals, starting with, ending with, etc.
Here is a screenshot of how it looks like: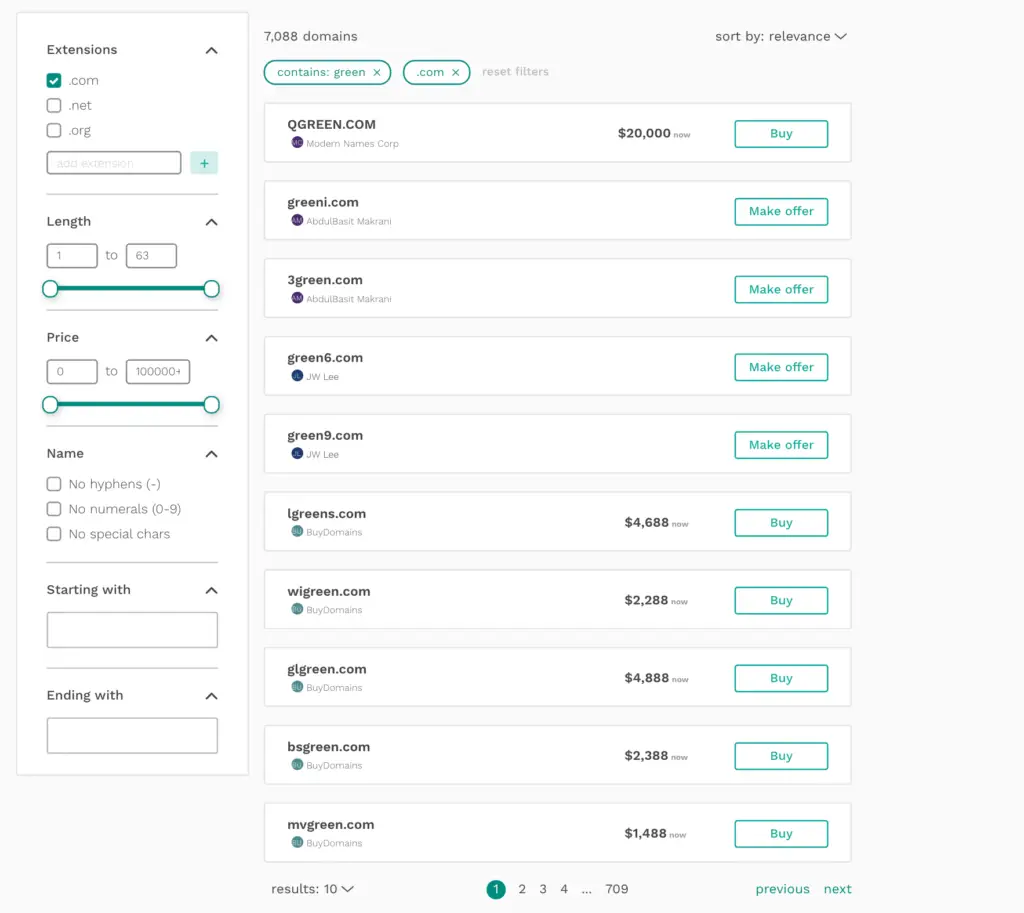 What happens once you have paid for a domain name?
The DAN bot is a fully automated personal domain transfer assistant that handles all your domain transactions in real-time.
At the time you purchase a domain, the DAN Bot knows exactly which registrar the domain is registered with, whether the domain is locked or unlocked, and what transfer options are available as per the registrar.
As the buyer, you will always receive domain transfer instructions tailored to your transaction, saving you a lot of time and energy.
There are multiple payment options available as listed below:
Paypal
Visa
WeChatPay
iDeal
MisterCash
AliPay
MasterCard
Sofort
SEPA
Bitcoins
Bank Wire
Also, DAN.com offers complete buyer protection, which means that your funds are safe, and you'll get the domain you paid for.
Lease to Own Option
If the seller of the domain has enabled this feature, instead of paying the full amount for the domain at once, you can simply purchase the domain in monthly installments.
Of course, there will be a markup on the price if you choose to lease the domain for a longer time period.
| Time Period | Mark up |
| --- | --- |
| 0–1 year | 0% |
| 1–2 year | 10% |
| 2–3 year | 20% |
| 3–5 year | 30% |
You get to use the domain name immediately after the first installment and get complete ownership after the final installment.
You also have the option to stop at any time, but all the previously made payments will not be refunded, and the domain will be returned back to the seller.
Customer Support
DAN.COM provides excellent customer support prior to the transaction as well as after the purchase.
You can contact them via Chat or Email.
DAN.COM For Sellers
Considering that domain names are quite illiquid investments, you wouldn't want to miss out on any opportunity to generate revenue from your domain portfolio.
DAN.com (previously named Undeveloped) can help you move your inventory efficiently by eliminating any friction that arises during the sale and negotiation process, domain transfer, and payments.
As per my experience, payments are made within 24hr of the domain transfer to DAN's escrow holding account. This is the fastest in the industry ⚡️
With the lease-to-own option, you get to rent/lease domains without worrying about the legal hassles of the deal.
The payout options available are Paypal, Bank Wire, and Bitcoin.
Another useful feature provided by DAN.com is that you can enter a Google Analytics Tracking Code for your entire portfolio. This way, you can monitor traffic sources and other valuable data for your domains.
DAN.COM Commission
DAN.COM takes just 9% commission (apart from VAT, if applicable) for every sale conducted through their marketplace.
If you just want to use DAN.com as an escrow service, you can import a lead from the dashboard, in this case, the commission is only 5%.
DAN.COM NameServers
Automated Ownership Verification
If you own thousands of domains and would like to list them on DAN.com, you can simply add the unique verification nameserver (found in settings) to your domains.
DAN.com will automatically check on a daily basis if you've become the new owner of a domain and move those domains to your account.
DAN.com Landing Page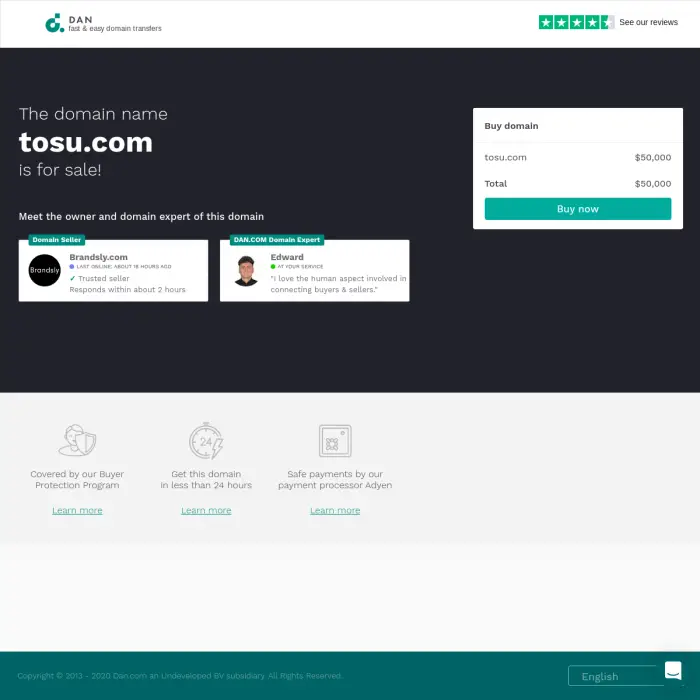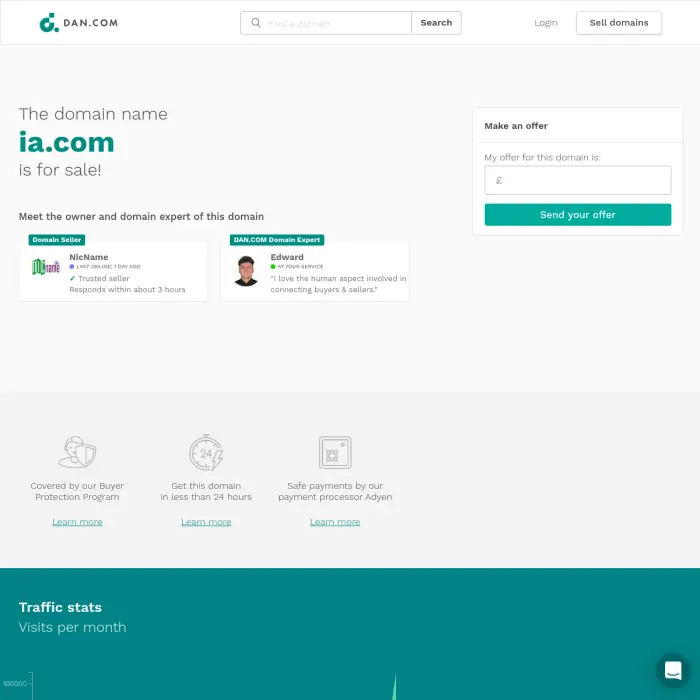 DAN.COM On Trustpilot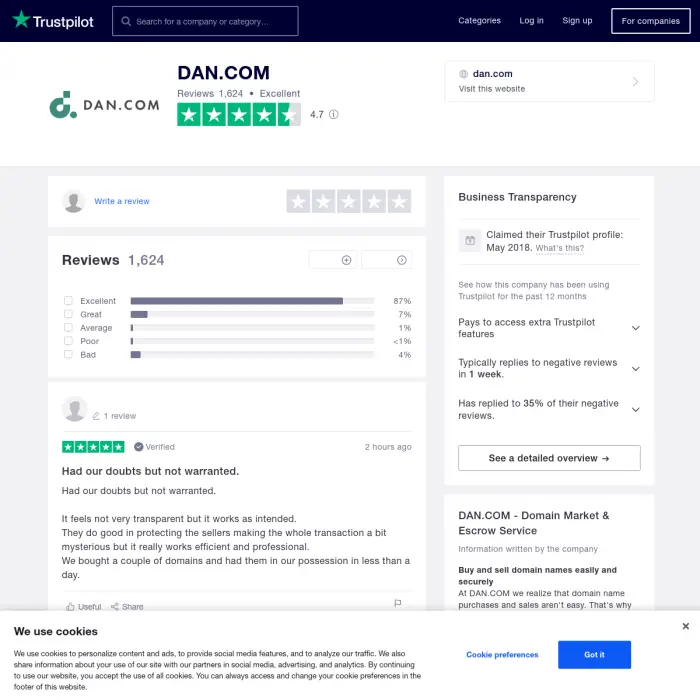 DAN.com is rated as Excellent on Trustpilot with over 1,624 reviews and an average rating of 4.7 stars.
Is DAN.com legit? You can be assured that DAN.com is completely legitimate. They have a unique buyer protection program wherein they handle the escrow of every transaction by themself.
DAN.COM API
DAN.COM offers access to its network to anyone through a simple to use API. DAN not only has its own registrar to keep domains under warranty but also its own payment gateway.
You can easily create your own domain marketplace and by using the API, handle the payments, and domain transfers from one registrar to another.
Conclusion: DAN.com Review
I hope this review helped you get a better understanding of the domain name marketplace, DAN.com.
It as a revolutionary initiative in the domain name industry. Kudos to Reza Sardeha! (CEO – DAN.COM)
If you are a domain name seller, I highly recommend you to list your domains on DAN.com.
If you have used the platform before, let me know your experience in the comments below.
Also, if you have any questions, feel free to mention them as well.
How to Create a Subdomain in GoDaddy