Amazon Affiliate Tax Information India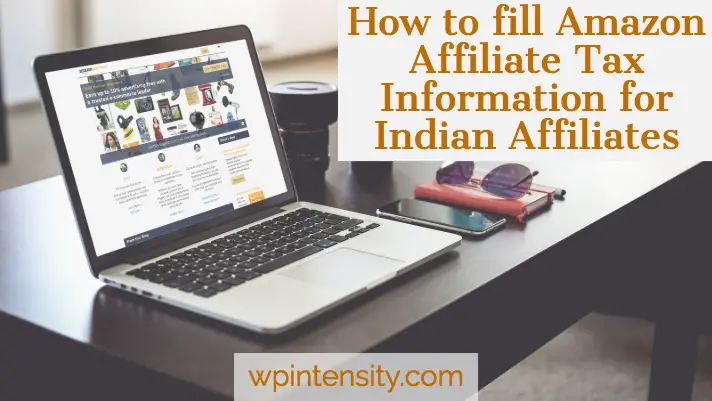 In this post, I will show you how to fill amazon affiliate tax information or amazon associates tax interview as they call it, for Indian Affiliates. The steps are pretty much the same for other non-US affiliates as well.
It is essential to know that Amazon won't pay you unless you have filled the tax information correctly. You must complete it as soon as you sign up for the Amazon Associates Program.
It is a bit of hassle to complete the tax interview, but this post has the complete procedure with step by step instructions and screenshots.
Make sure to follow it completely and start getting payments from Amazon US.
If you haven't become an Amazon Affiliate yet, sign up using this link: Click Here
Step 1
Log in to your Amazon Associates Account.
Step 2
Hover over your email at the top of the page. Go to account settings.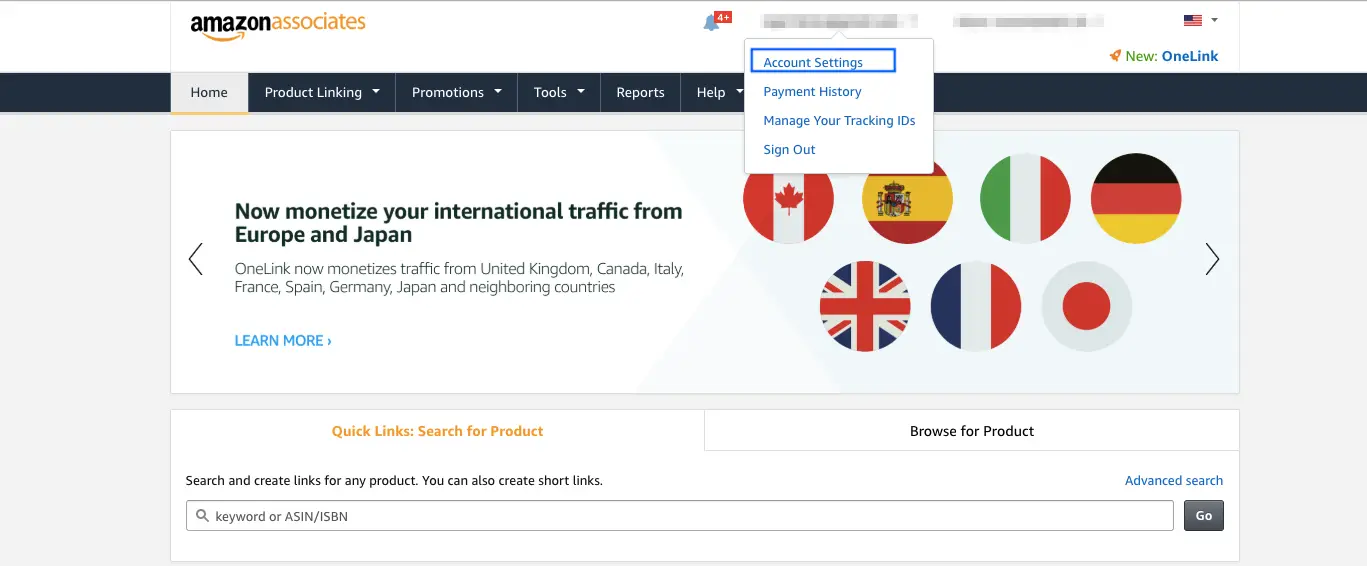 Step 3
Under Payment and Tax Information, click on change your tax information.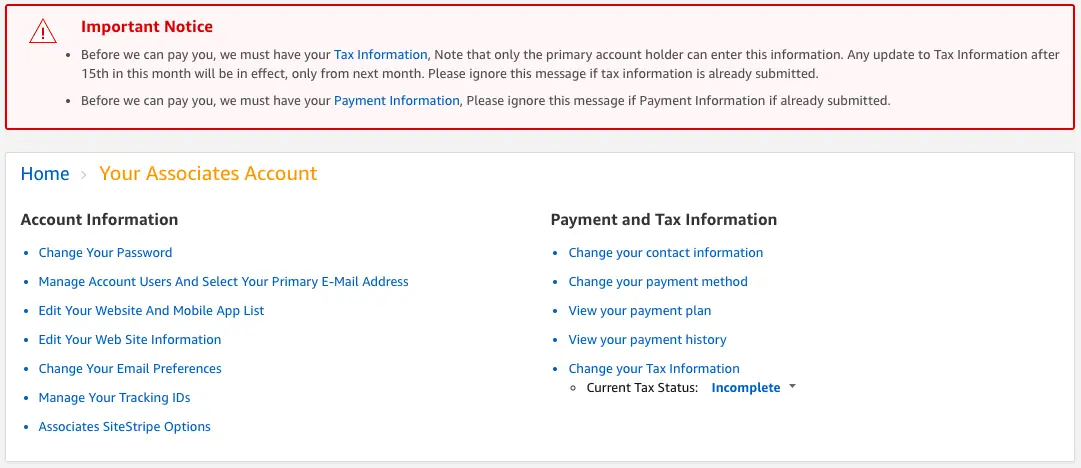 Step 4
It will take you to take the Amazon Associates Tax Dashboard. Click on the button which says take interview.
Step 5
For U.S. tax purposes, are you a U.S. person?
If you are from India or you are not a US person, then select No.
Click on save and continue.

Step 6
Type of Beneficial Owner
Individual
Country Of Citizenship
India
Full Name
Enter your full name
Fill your Permanent Address.
For Mailing Address, select the same as Permanent Address.
Are you an agent acting as an intermediary?
No
Location of Services Performed
All services are performed outside the U.S.
U.S. person tests – individuals
Leave ALL Blank
Tax Identification Number (TIN)
I do not have a U.S. TIN  or a foreign (non-U.S.) income tax identification number.
Click on Save and continue.
Step 7
The form will be shown to you. You can verify the details you have filled as of now. After doing that, click on Save and continue.
Step 8
Consent to electronic delivery of Form 1042-S
Form 1042-S delivery preference
Choose Go paperless, I want to receive my form 1042-S electronically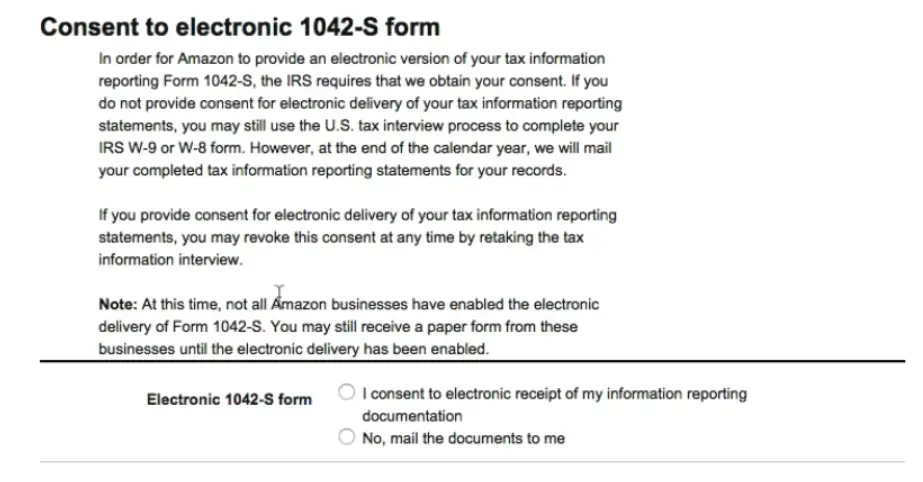 Consent to electronic signature

Choose I consent to provide my electronic signature. Tick all the options that you see.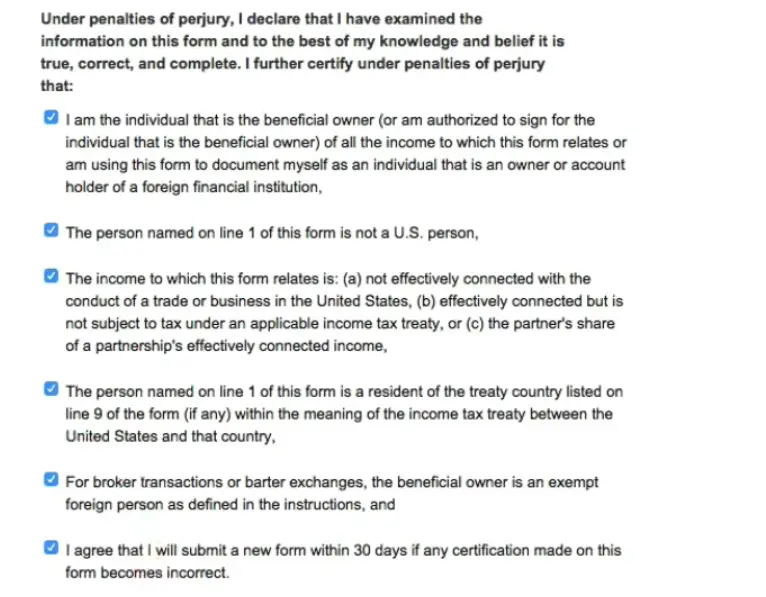 Then enter your Name in the box asking for Signature of the beneficial owner.
The current date will be shown automatically.
In the box asking for the email address, enter your email.
For capacity, choose Individual.

Last Step
Click on submit to send your form to Amazon and then exit the tax interview.
Conclusion
I hope this guide helped you to fill the Amazon Associates Tax Information interview correctly for Indian Affiliates.
Now you need to fill your Payment Information, and then you will be eligible to receive payments from Amazon provided that you reach the minimum threshold (10$).
Make sure to use Payoneer to receive your payments as local bank transfer most likely won't be possible for non-US persons.
Do let us know if you face any problem in filling the amazon affiliate tax information for Non-US persons.
Best Fiverr Gigs 2022 – Make money with no skill and investment