Are you looking for the best WHOIS Lookup Sites and Tools? In this article, I will show you the best WHOIS tools, their features, and how you can use them.
What is WHOIS?
There are more than 360 million domain name registrations made to date. Anyone from individuals, organizations to governments can register domain names.
The registrant of any domain must provide basic contact information such as: name, email, address, phone number, and administrative and technical contacts. This information is known as "WHOIS data"
The WHOIS data is not available in an isolated, centrally-operated database. It is administered by independent bodies known as "registrars" and "registries."
Registrars are ICANN accredited businesses that facilitate the registration of domain names and the assignment of IP Addresses for the domain names. Examples of popular domain registrars are Godaddy, NameCheap, BlueHost, etc.
Registries are organizations (under contract with ICANN) that manage top-level domains (TLDs). For example, Verisign is the registry that manages .com and .net TLD's. NIXI manages .in TLD.
ICANN stands for Internet Corporation for Assigned Names and Numbers. It is a non-profit that helps co-ordinate the domain name system.
What is a WHOIS lookup?
A WHOIS lookup is a way using which you can query the public WHOIS database for getting the WHOIS data of a specified domain name.
The WHOIS record includes the following:
Domain Name
Registry Domain ID
Registrar WHOIS Server
Registrar URL
Updated Date
Creation Date
Registrar Registration Expiration Date
Registrar
Registrar Abuse Contact Email
Registrar Abuse Contact Phone
Domain Status
Registrant Organization
Registrant State/Province
Registrant Country
Registrant Email
Name Servers
DNSSEC
Ok, enough of information now, let's get to the WHOIS lookup sites and tools. There are thousands of WHOIS tools available online, but most of them don't work; therefore, this list only contains the tried and tested tools.
List of WHOIS Lookup Sites and Tools
whois.net
URL: whois.net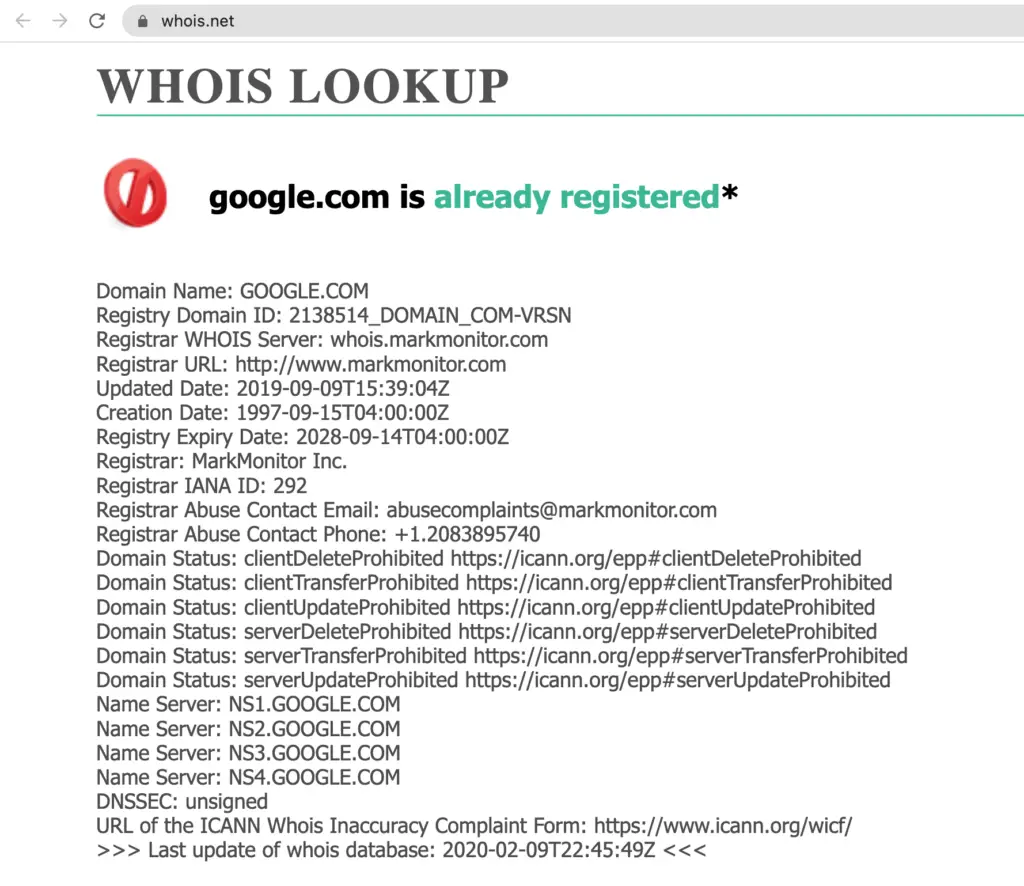 who.is
URL: who.is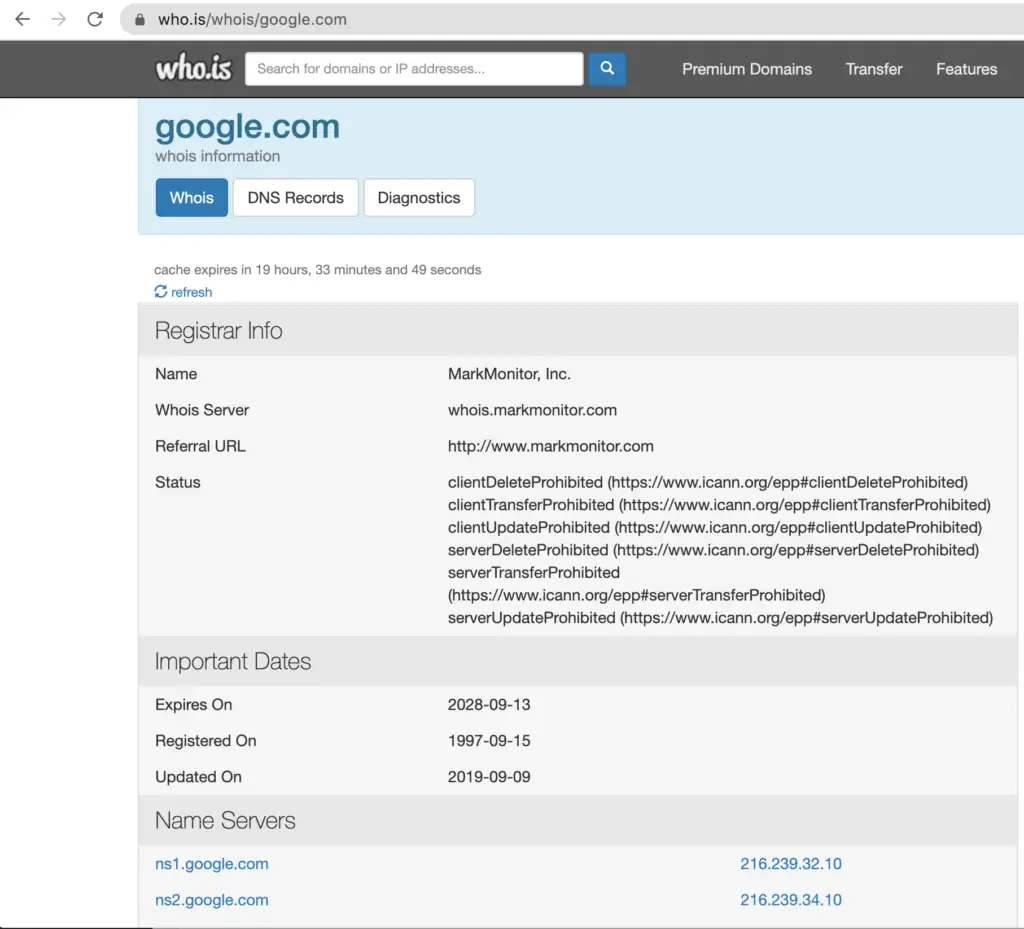 lookup.icann.org
URL: lookup.icann.org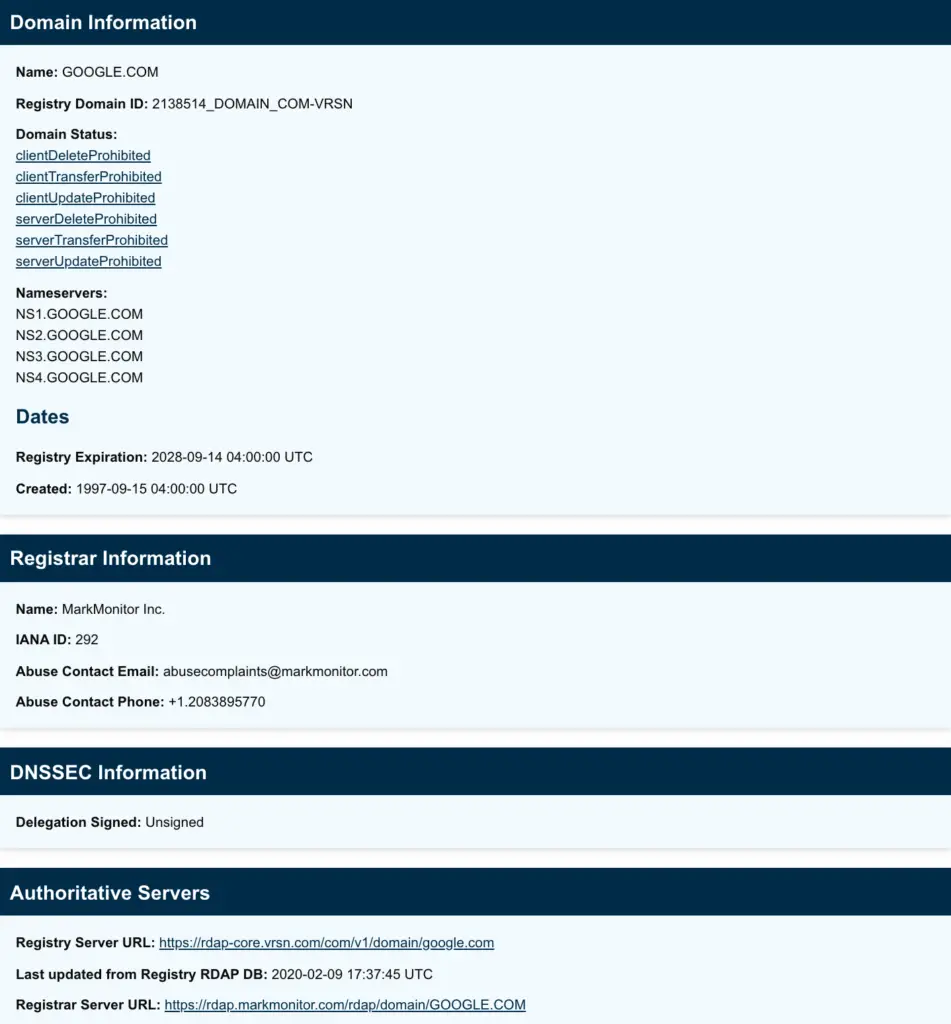 godaddy.com/whois
URL: godaddy.com/whois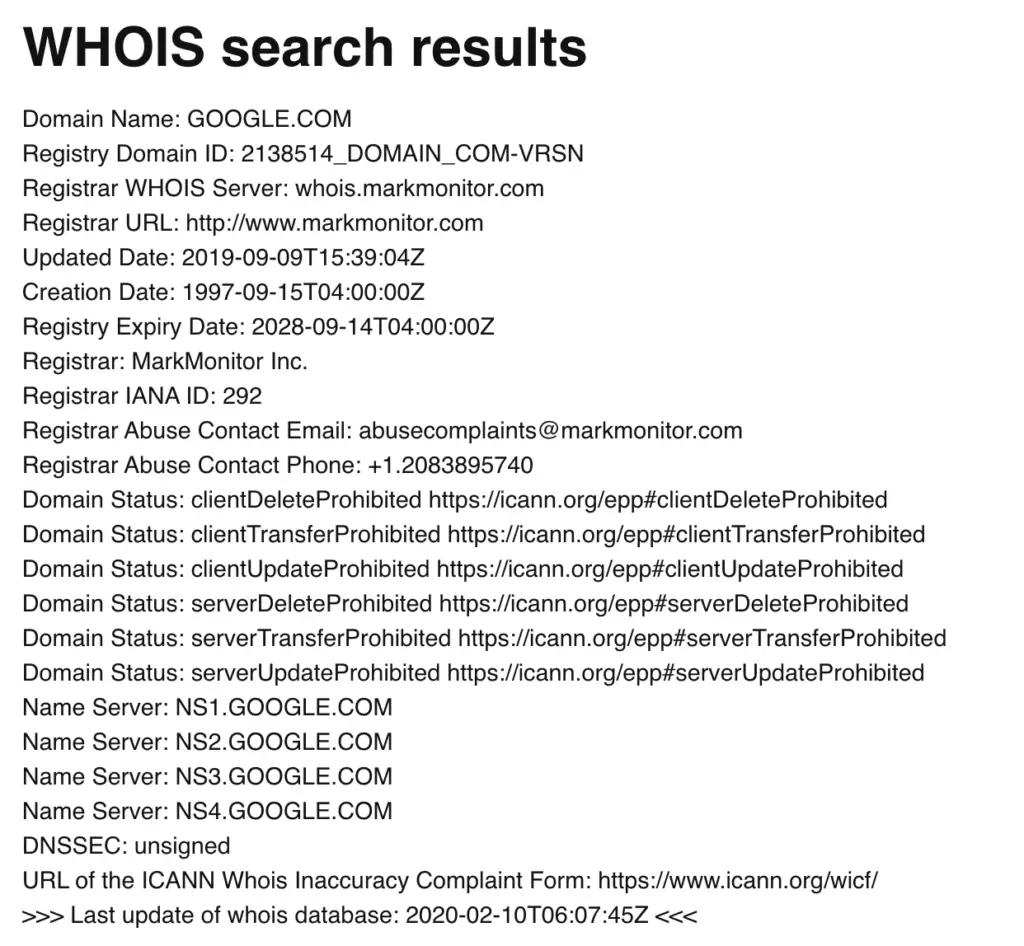 whois.com/whois
URL: whois.com/whois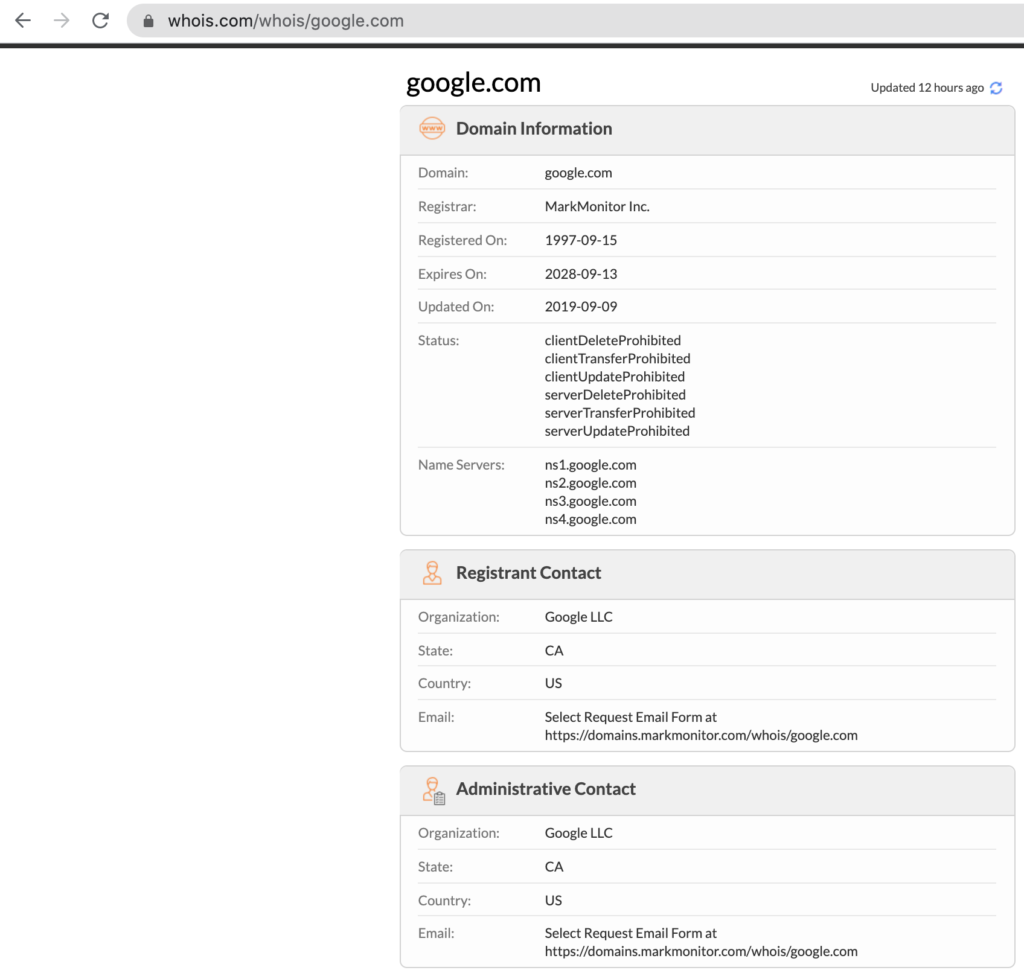 name.com/whois-lookup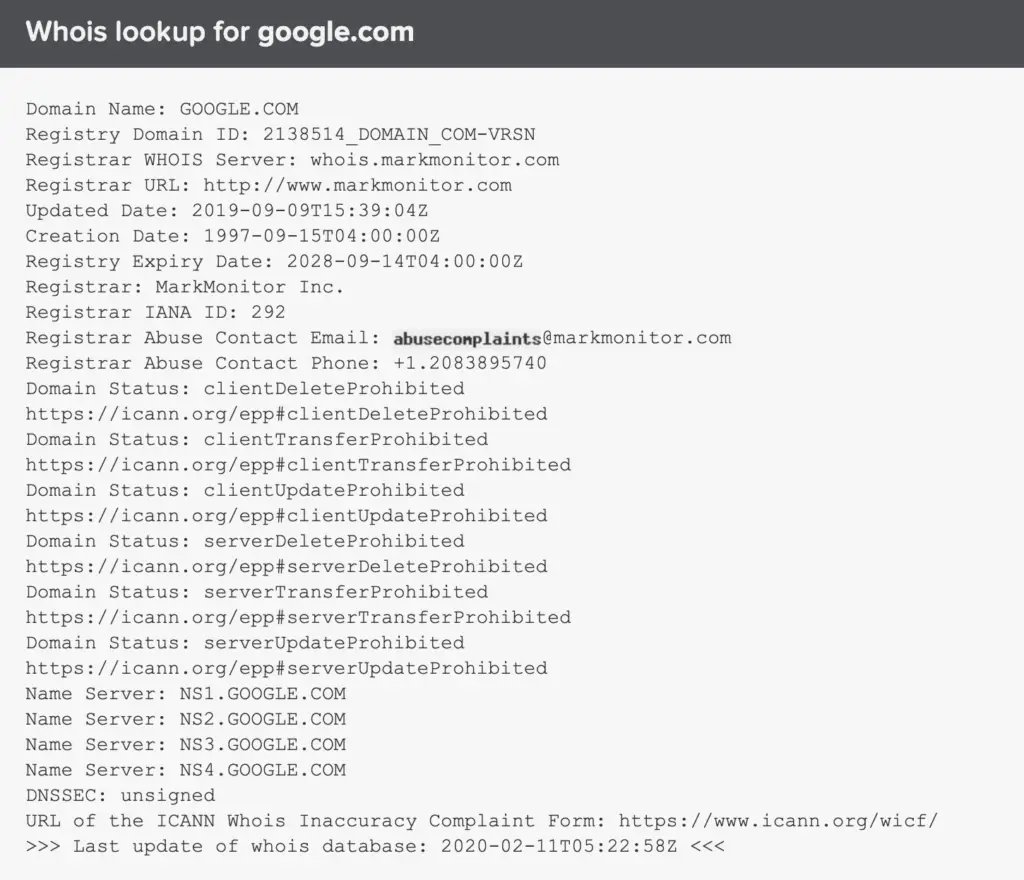 mxtoolbox.com/Whois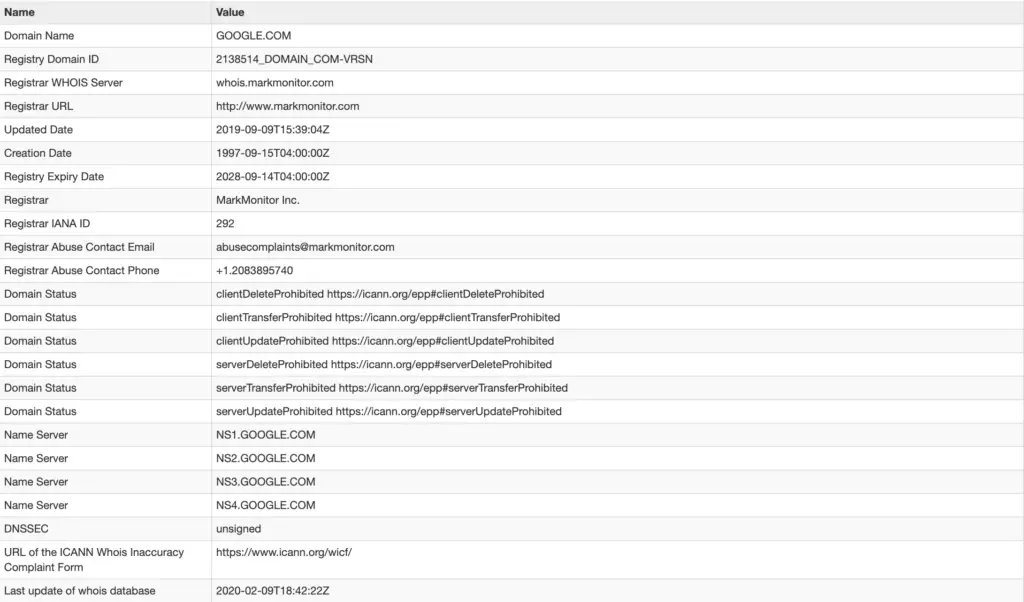 Benefits of WHOIS Lookup
Networking
As an internet business owner, this will be the most important usage of WHOIS to you. Given the significance of media in online marketing, it isn't a stretch for business people to use WHOIS for real-world identity, searches to the company location and contact info of internet retailers, or any business that has an online presence.
It's frequently very important to connect businesses, associations, or people with specific domains, and also to identify parties that run sites or other publicly available services utilizing a domain name, for commercial or other purposes.
You may also want to speak to a domain name registrant to:
Share and/or negotiate trades about the earnings of registered domain names.
Remind these registrant's duty to keep accurate registration information.
Remind these things about the law and protection of intellectual property rights.
Maintain Domain Name Uniqueness
Potentially WHOIS's most mainstream aim is to apply the uniqueness of domains.
Just imagine how harmful it would be to the brand, product lines of your company, jeopardized by another site with an identical title? A plain site with the exact same domain would do harm to your internet presence.
Domain Registration Problems
Registering a domain name is generally a simple job; however, there are instances when particular issues will need to be identified and cared for.
As a result of WHOIS, system questions can be created that offer helpful information in resolving enrollment possession problems (e.g., production date, expiration date, and password identification ) or discovering who owns a domain name.
Administrative Concerns
WHOIS info comprises the technical and administrative contacts of a domain name. There are instances when network administrators will need to get alerted to solve certain problems (for example, evaluation of Denial of Service (DoS) and other network attacks, DNS and routing processes, etc.). In the same way, it's used to contact internet administrators to the settlement of technical topics associated with some domain names.
Privacy and Security Issues
With the growing importance of internet safety and the rising threat of cyber-attacks into government and business, WHOIS helps safety specialists and law enforcement representatives to find and isolate identify points of contact for a domain name.
Observing a computer network attack, it may establish possible criminal identities as part of an episode response.WHOIS can be used to collect investigative witnesses and leads to identify parties from whom essential testimonials may be found. Across national boundaries, practices will change obviously.
Is WHOIS data accurate?
Considering that registrants' contact information can alter, registrars like Namecheap, GoDaddy offer chances for domain name owners to edit and to examine their own WHOIS domain information.
In accordance with the principles of ICANN, providing false data or refusing to upgrade that information may cause the suspension or cancellation of domain names.
Furthermore, ICANN enables complaints to record should they detect WHOIS domain search information, which is incomplete or erroneous. In such cases, registrars confirm and must fix the information in a way that is timely. By means of this verification protocol, ICANN attempts to keep the greatest degree of precision.
Top .com domain alternatives in 2022
14 Best Ad Management Plugins for WordPress