Elementor is definitely one of the top choices when it comes to Page Builder Plugins for WordPress. In this post, we look at Elementor Alternatives, which may be the ideal page builders for your website.
Elementor is the definitive and FREE WordPress Page Builder, which allows you to create beautiful WordPress websites in the easiest and fastest way possible.
The free version is excellent to get started. Still, Elementor also has a PRO version, which includes advanced widgets, theme builder, pop-up builder, dynamic content, motion effects, and much more.
Top 10 Elementor Alternatives
Beaver Builder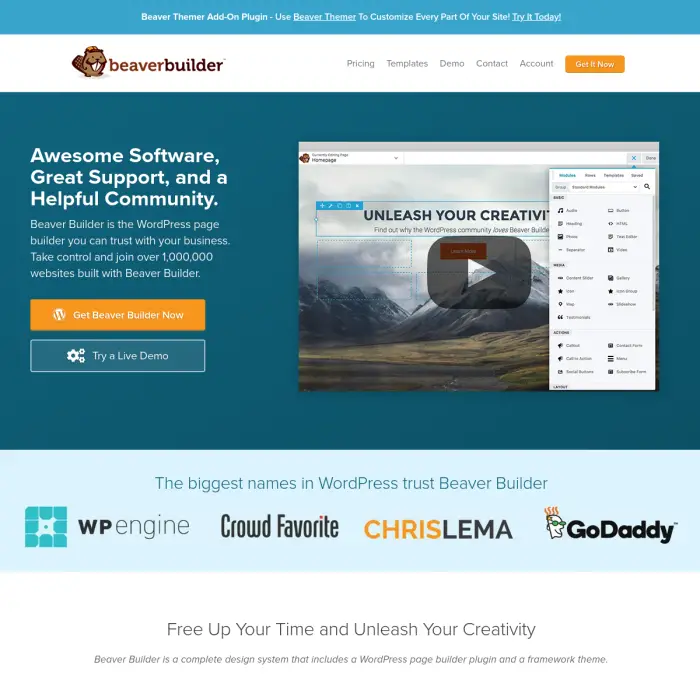 Beaver Builder is amongst the best drag and drop WordPress page builders.
It allows you to create a website as you wish without knowing the coding skills. You can drag and drop to create beautiful pages easily.
Beaver Builder comes with dozens of beautiful page templates just like Elementor, so you can easily get started on your design without starting over. You can choose a template, replace images and text with yours, then click publish.
Beaver Builder works with most WordPress themes, giving you full control over your content. The best thing is that even if you stop using the plugin, its content is transferred to the WordPress editor, also known as the WYSIWYG editor.
With the professional plan and above, you will get beautiful themes compatible with Beaver Builder that will allow you to modify your styles with the native WordPress customizer.
Beaver Builder Pricing
| Plans | Standard | Pro | Agency |
| --- | --- | --- | --- |
| Price | $99 | $199 | $399 |
| No. of Sites | Unlimited | Unlimited | Unlimited |
| Beaver Builder Theme | No | Yes | Yes |
| White Labeling | No | No | Yes |
Divi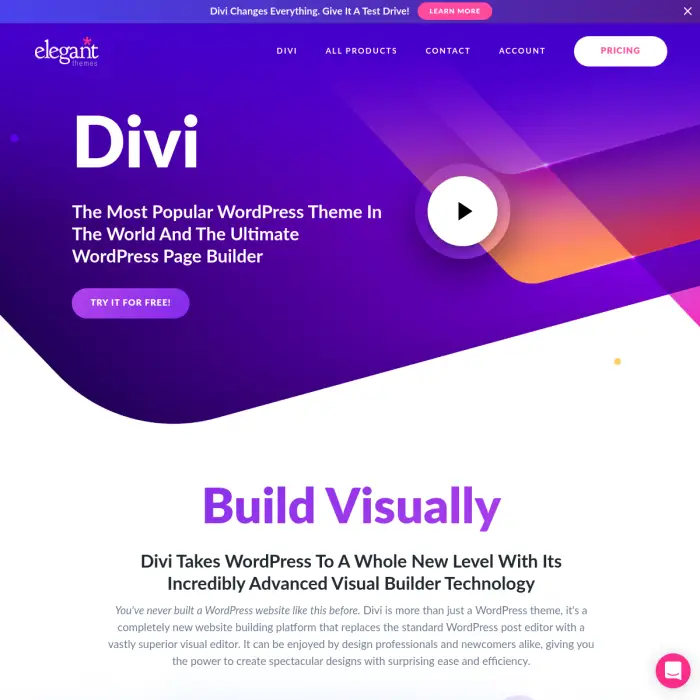 The next Elementor alternative in our list is Divi.
Divi is a theme and a drag and drop plugin to create WordPress pages and websites.
It is extremely user-friendly and comes with over 800 pre-made website layouts and over 150 full website packs for different types of websites.
It offers readymade layouts are available for websites of all kinds, such as:
Art & Design
Business
Community & Non-Profit
Education
Events
Fashion & Beauty
Food & Drink
Health & Fitness
Lifestyle
Online Store
Services
Simple
Technology
Like Elementor, Divi Builder is a visual drag-and-drop page builder, a true WYSIWYG editor (what you see is what you get).
You can directly click on their page and start editing with a live preview of all the changes. You don't even need to click Preview to see the new design.
Using Divi, you can create any kind of custom layout you want in minutes. You can then save these Divi designs for future use on your site. You can also export a design from one Divi installation to another.
The Divi Builder plugin is the pillar of the Divi theme, but it works well with any other WordPress theme.
Above all, Divi has the best pricing among all the options. You just need to pay for a single license to get the Divi theme, the Divi Page Builder plugin, and all the other Elegant Themes products.
All in all, Divi is an excellent alternative to Elementor. It has a powerful page generator with unlimited design possibilities. Its large number of content modules allows you to create literally any type of website that you really want.
Its lifetime access plan makes it one of the best offers on the market, and there is a moneyback guarantee too!
Divi Pricing
| Plan | Yearly Access | Lifetime Access |
| --- | --- | --- |
| Price | $89 per year | $249 one time |
| One-time fee | No | Yes |
| Product Updates | As long as your license is active | Lifetime |
Visual Composer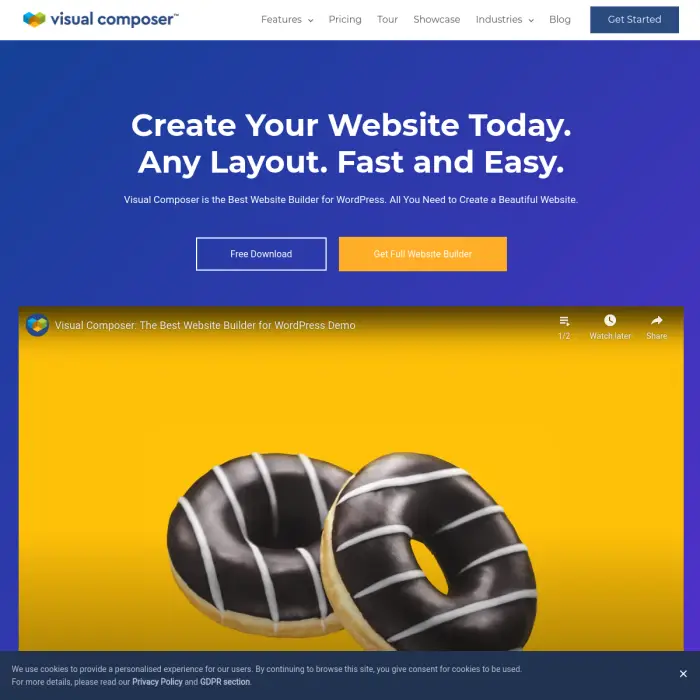 Visual Composer Website Builder is a robust drag and drop website builder for WordPress. It allows you to create a great WordPress website quickly and easily.
The Visual Composer plugin has a real-time live editor that allows you to see any changes made to the page immediately. You can click directly on any area of ​​your page to edit and customize the content.
The plugin comes with a set of ready-to-use professional models. There are powerful design options to customize the appearance of any element. You have full control of spaces, borders, background, parallax effects, etc.
You can also edit the header, footer, menu, logo, sidebars of your website, etc.
Visual Composer is an alternative to Elementor and an excellent tool for beginners and developers alike. A beginner can speedily create a website with ease, whereas developers can improve the workflow and create more personalized content and themes for their customers.
Pricing Update: Irma Girupniece from Visual Composer contacted me saying that the prices have been reduced to make the tool more affordable for users.
Visual Composer Pricing
| Plans | Free | Single Website | Three Websites | Developers |
| --- | --- | --- | --- | --- |
| Price | $0 per year | $49 per year | $99 per year | $349 per year |
| No. of License(s) | – | 1 | 3 | 1000 |
| Header, Footer, Sidebar editor | No | Yes | Yes | Yes |
| Popup Builder | No | Yes | Yes | Yes |
Themify Builder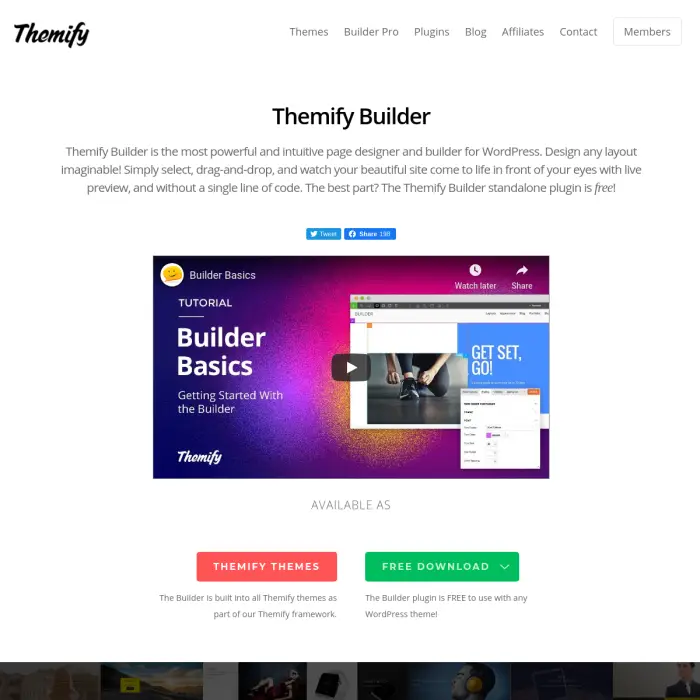 Themify Builder has the definite advantage of being integrated with all Themify themes.
If you come across a Themify theme from the collection that suits your needs, you don't have to worry about integrating a third-party plugin.
Themify Builder has a drag-and-drop interface that helps you create any design you can easily imagine. The builder includes 60+ pre-defined animation layouts and effects.
This means that you can quickly create beautiful pages without having to start over from scratch. All you have to do is simply import the layouts you want to use, replace the images and text, and you're done.
From the compact backend interface, you can use drag and drop to create forms quickly and easily. In the interface, you can preview the design and make direct changes to your modules.
To improve the capabilities of Themify Builder, you can find tons of different plugins that can be purchased separately or in bundles.
Themify Builder Pricing
| Plan | Builder Plugin | Builder Plugin with Add-ons |
| --- | --- | --- |
| Price | Free | $39 |
| Builder Add-ons | No | Yes (25+ Add-ons included) |
| Standalone Plugin | Yes | Yes |
SiteOrigin Page Builder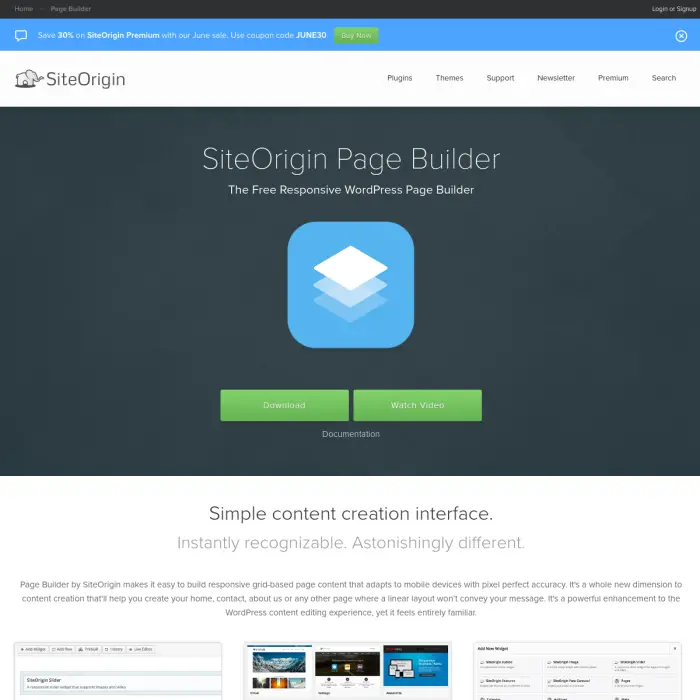 SiteOrigin Page Builder is one of the most well-known WordPress page builders in the WordPress repository, with over one million active installations.
One of the leading causes of its popularity is its (free) price. It is available as a fully operational free plugin.
With SiteOrigin, creating responsive column-based content is easy. Its content will be adapted to all devices, regardless of the screen resolution.
The SiteOrigin generator works perfectly with your existing WordPress widgets, so you can add your favorite widgets to the websites you create. The builder works perfectly with all WordPress themes.
The best part of SiteOrigin is that you can find a series of compatible WordPress themes created by the same people behind the SiteOrigin plugin.
Flexibility is one of the main advantages of this plugin. Using its advanced row generator, you can choose the exact number of rows for each column you add.
Site Origin Page Builder is a bit complicated to use, and new users often have difficulty knowing them. However, we had to include it on our list of Elementor alternatives because of its popularity.
It also comes with a history tool that allows you to switch back and forth to undo/redo the changes made. It is time-saving and gives you peace of mind knowing that you can undo and undo your edits.
The SiteOrigin plugin and its widgets are totally Gutenberg-compatible. There is also a new SiteOrigin design block that you can use as a Gutenberg block.
SiteOrigin Page Builder Pricing
It's FREE 🙂
Thrive Architect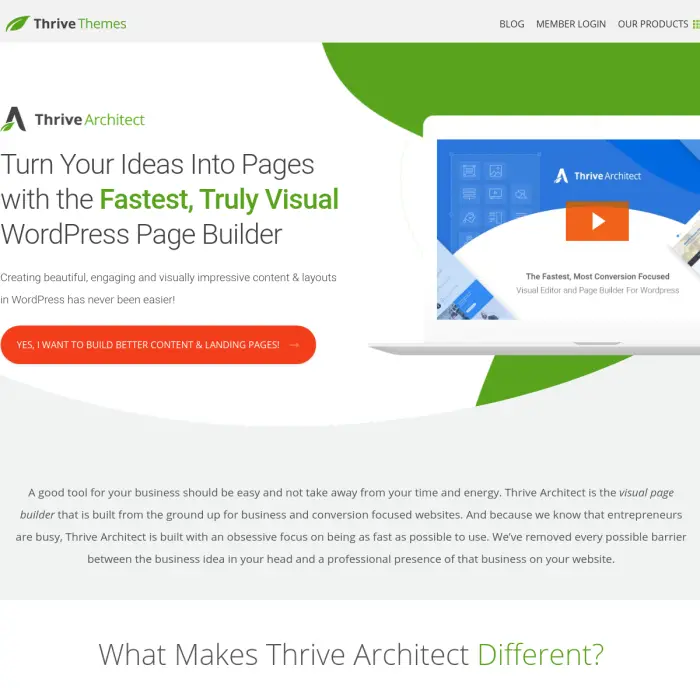 Thrive Architect is a powerful front-end WordPress page builder that offers true WYSIWYG (what you see is what you get) functionality.
This WordPress page creation plugin works with any theme and allows you to create beautiful articles and pages using a smart item list.
Thrive also includes several elements that marketing-oriented bloggers will certainly appreciate. You can easily add social proofs, call to action buttons, price charts, etc.
If you focus on maximizing conversions or getting readers to take a specific action, these will save you time.
Thrive Architect comes with built-in landing page templates. This means that you will get 334 landing page templates included in this page generator plugin.
Unlike many other plugins, these templates are designed to be converted and themed together to simplify the creation of sales funnels that maximize the conversion rate.
Above all, Thrive Architect is continuously updated. The set of features and model lists has increased significantly since its launch.
Thrive Architect Pricing
| Plans | Single License | 5 License Pack | Thrive Membership |
| --- | --- | --- | --- |
| Price | $67 | $97 | $19 per month |
| No. of Sites | 1 | 5 | 25 |
| Updates | Unlimited | Unlimited | Unlimited |
| Support | 1 Year | 1 Year | Unlimited |
WPBakery Page Builder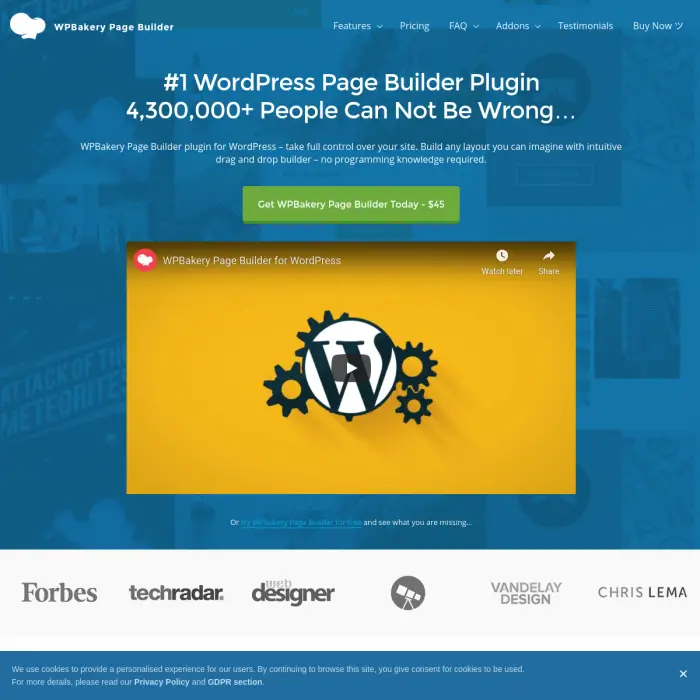 WPBakery Page Builder is one of the most popular WordPress Page Builders and is a great alternative to Elementor.
There have been over 390,000 Sales of this plugin on CodeCanyon.net, which speaks enough of its quality.
It includes both the back end and the front end editor to offer you the best of both worlds.
It also comes with over 100 pre-defined templates to choose from. It is probably the only page builder with over 200 unique add-ons.
If you need a premium WordPress page generator that offers lifetime updates, look no further than WPBakery Page Builder.
The WPBakery page generator works perfectly with the popular WordPress plugins such as Yoast SEO and WooCommerce.
It also supports powerful translation plugins such as Polylang and WPML, so you can easily create multilingual websites with ease.
WPBakery Page Builder Pricing
| Plan | Regular | Extended |
| --- | --- | --- |
| Price | $45 | $245 |
| Website | Single Site | Single SaaS Application |
| Updates | Free | Free |
Brizy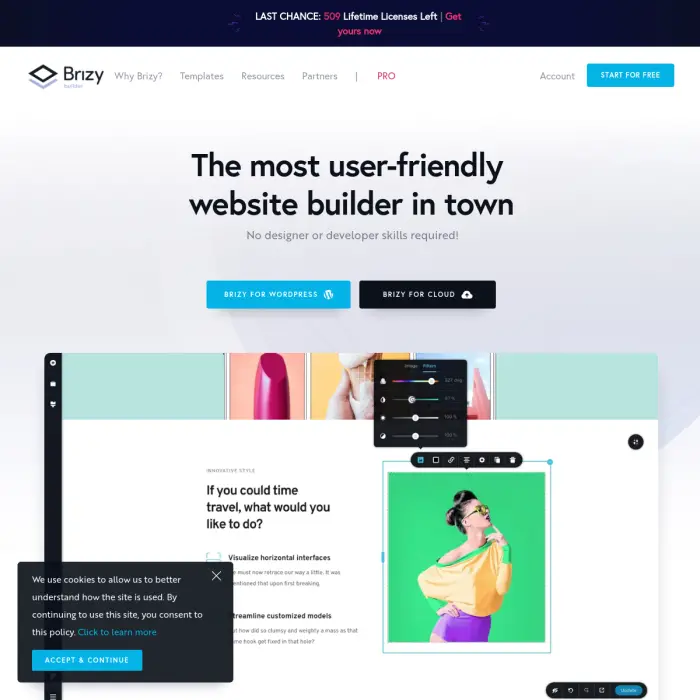 Brizy may be one of the newest page creation plugins on the market, but it was developed by the ThemeFuse team, which has been creating WordPress themes for many years.
This makes them seasoned WordPress theme and space experts and has learned what users need and want. They aim to make the design of your web page as simple as possible with Brizy.
To create your page, you must first add a block. You can use an empty block, or you can choose between the pre-defined section blocks:
It has a single interface where you can add items. Rather than having a sidebar or a pop-up window where you can customize / model the item, almost everything happens online (including writing).
It also includes over 150 pre-made blocks (model sections) and 4000+ icons that can be used.
Brizy's interface is already quite unique, but it has also quickly built up a stellar list of features since its launch.
It also includes a dynamic function for entering custom field content from popular plugins like ACF and Toolset.
You can design pop-ups using the Brizy interface and use conditions to control where/when to display.
Brizy Pricing
| Plans | Free | Personal | Studio | Lifetime |
| --- | --- | --- | --- | --- |
| Price | $0 per year | $49 per year | $99 per year | $299 once |
| No. of Sites | 1 | 3 | Unlimited | Unlimited |
| Headers and Footers | No | Yes | Yes | Yes |
| Popup Builder | No | Yes | Yes | Yes |
Oxygen Builder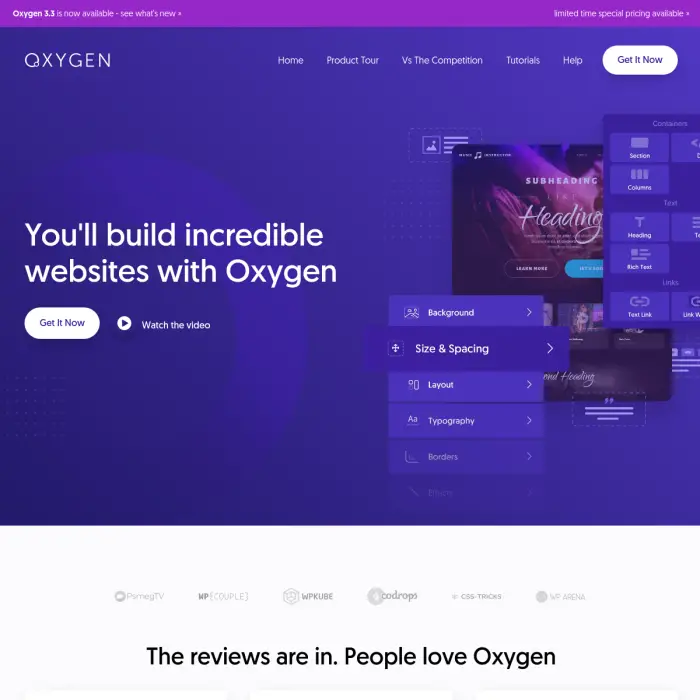 The Oxygen Builder is a little different from your average WordPress page builder in that it works through a separate sandbox module, which is still connected to WordPress.
Oxygen Builder removes most of the main tabs and toolbars that you would normally see in WordPress and focuses only on the page generator options such as buttons for creating containers, paragraphs, and blocks of text.
Oxygen Builder has really attractive pricing as you only pay a one-time fee to get a lifetime license, unlimited installations as well as updates.
Oxygen Builder Pricing
| Plans | Free | Personal | Studio | Lifetime |
| --- | --- | --- | --- | --- |
| Price | $0 per year | $49 per year | $99 per year | $299 once |
| No. of Sites | 1 | 3 | Unlimited | Unlimited |
| Headers and Footers | No | Yes | Yes | Yes |
| Popup Builder | No | Yes | Yes | Yes |
MotoPress WordPress Page Builder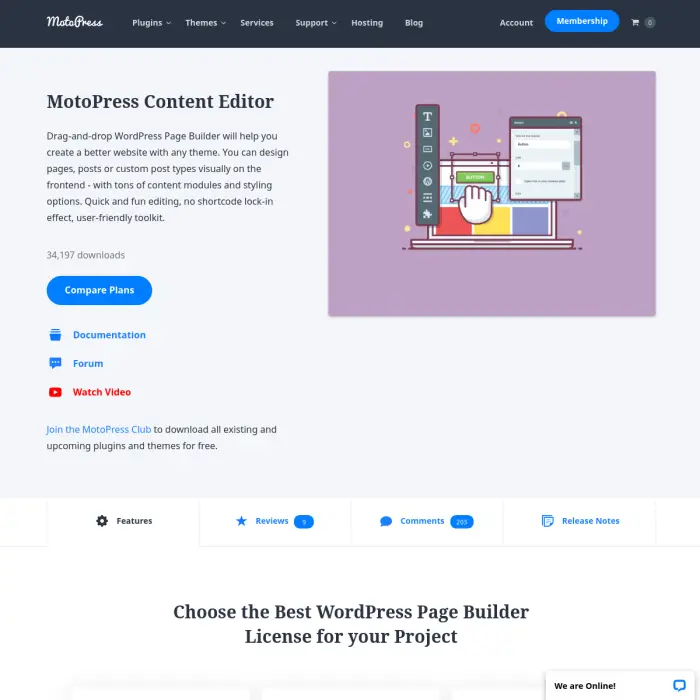 MotoPress WordPress Page Builder enhances the standard WordPress editor and allows you to create websites visually. It is an unrivaled website builder for non-techies and a professional tool for designers.
It's a turn-key solution for creating responsive pages without coding – add content items with a few clicks and drag them onto the page by dragging them.
The MotoPress Page Builder plugin is easily extensible, fully responsive, and works seamlessly with all WordPress themes.
The trade-offs for this convenience are limited elements. You will have to go to paid add-ons for common items such as contact forms and count-downs.
But the basic plugin includes all the basic elements necessary for any page. You will have access to buttons, grids, sliders, and all other essential items.
And if you're using a MotoPress theme, the generator integrates seamlessly to help you fully customize your theme.
MotoPress WordPress Page Builder Pricing
| Plans | Free | Personal | Business | Developer |
| --- | --- | --- | --- | --- |
| Price | $0 | $29 | $47 | $139 |
| No. of Sites | 1 | 1 | 5 | Unlimited |
| Automatic Updates | Yearly | Yearly | Yearly | Yearly |
| Premium Add-ons | No | No | No | No |
Conclusion: Elementor Alternatives
That is all we have for our list of Elementor Alternatives.
Let us know in the comments section if you use any of the page builders and share your experience with them.
Top 8 BrandBucket Alternatives